Ecofoot PV mounting used for the installation of a 127.5kW solar PV system on two rooftops of a Clarion Hotel in El Centro California
Ecolibrium Solar modernized the flat-roof mounting industry with the launch of the Ecofoot in 2010. Recent usage of the Ecofoot mounting system includes the installation of a 127.5kW solar PV system on two rooftops of a Clarion Hotel in El Centro California. The system is designed to offset a portion of the hotel's electric load and is grid interconnected.

Ecofoot was selected for this recent low slope installation by Soorya Unlimited, a Texas based solar energy developer building projects across the country based upon Ecofoot's high performance and superior value. Andy Gupta, Soorya's CEO, said, "after a lot of research on ballast mount systems, we zeroed down on Ecofoot by Ecolibrium because of the unique design which reduces the ballast weight requirement considerably with the column structure of the layout as well as providing much larger wind load bearing capacity."
Project Challenges and Results
Over 500 panels mounted on two separate rooftops in less than a week
Installing the system on the building's concrete roof presented numerous design
challenges, including high wind loads and the owner's requirement that the racking not
penetrate the roof. Photon Solar Power of Escondido CA installed the system and according to Gupta, "The installers from Photon Solar were excited to work with a new product and were very pleasantly surprised with the ease of installation. They installed over 500 panels in a matter of less than a week on three separate buildings."
The economics and science of roof mounting
No roof penetration
Roof mounting systems that require penetration of the roof are a potential can of worms.
Leaks at the penetration points are not-uncommon over the system's 20-25 years lifetime. This liability increases the risk and total financial burden of property owners.
The newest product, Ecofoot 2, is reshaping flat roof mounting. Introduced at InterSolar North America in July - Ecofoot 2 furthers the advancements made in cost reduction, speed, and roof-friendly features. By offering integrated grounding and wire management (along with a more durable material) Ecolibrium Solar is driving down the cost of racking hardware. By ensuring compatibility with all roof types - and the guarantee of zero corrosion - owners realize more long term advantages. Shipping and handling is simplified with the nestable body form, made from Luran S ASA which requires no grounding. Cost, durability, and engineering support make Ecofoot 2 the next step in solar racking.
About Ecolibrium Solar
Ecolibrium Solar is committed to revolutionizing the solar power market. The company designs simple, cost effective and ecologically sound products that maximize efficiency and minimize costs - making it easier to implement clean energy technology. After more than year of extensive research and development, what began with a clean sheet of paper evolved into a reinvention of the mounting system. Their research team combines the expertise from the automotive, polymer, construction, and solar industries to create a next-generation family of products that are making solar energy more user-friendly and accessible. Reducing the duration and complexity of solar projects in turn promotes economic advantages and ROI. The skillful design of our products is a progressive step towards reaching our overall goal of grid parity.
About Brian Wildes, Founder
Mr. Wildes is the founder of Ecolibrium Solar. He possesses a strong background in the solar industry, plastics, engineering design, and product launches. Mr. Wildes holds a Masters Degree in Mechanical Engineering from Georgia Tech. He also achieved a Photovoltaic Installer Certification (the industry "gold standard") from the North American Board of Certified Energy Practitioners. Previous experience includes working for General Motors as a Design Engineer in the plastics parts division, for Sundance Products as Director of Engineering, and for a fast-growing solar installation company as Applications Engineer. Mr. Wildes has managed $1M construction projects, been involved in several GM product launches, and has prior entrepreneurial experience.
Featured Product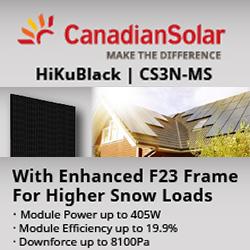 Aesthetic appearance for residential systems: With black backsheet & black frame, Power range 380 ~ 405 W, Low power loss in cell connection. Enhanced reliability: · Low temperature coefficient (Pmax): -0.34 % / °C, LID LeTID less than 2.0%, Lower hot spot temperature, Better shading tolerance.