Premier and Highly Visible Installation at Federal Ministry of Education and Research Government Complex in Berlin, Germany
DANBURY, Conn., Aug. 7, 2012-- FuelCell Energy, Inc. (NASDAQ:FCEL) a leading manufacturer of ultra-clean, efficient and reliable fuel cell power plants, today announced that FuelCell Energy Solutions, GmbH has sold their first stationary fuel cell power plant, a sub-megawatt DFC250-EU®, to BAM Deutschland AG for installation at the new Federal Ministry of Education and Research government complex in Berlin, Germany. FuelCell Energy Solutions (FCES) will manufacture and install the power plant, which is expected to be operational in 2014. Under a ten year service contract, FCES will service and operate the power plant from a service operations center that is staffed around the clock, 365 days per year.

"The energy transition will be only successful if we push for the development of necessary technologies," said Cornelia Quennedt-Thielen, State Secretary of the Federal Ministry of Education and Research. "I am convinced that fuel cells play an important role for the future energy supply. This fuel cell power plant will demonstrate the value of fuel cell technology for the energy supply of large buildings."
"The Ministry required a state-of-the-art office complex that incorporates the latest advances in energy efficiency and sustainability and a fuel cell power plant is an important part of our overall solution to meeting these demanding requirements," said Dr.-Ing. Markus Koch, BAM Deutschland AG. "Located near the Reichstag Parliamentary building and the offices of the German Chancellor, this office complex and its fuel cell power plant is in a prominent location for developing awareness of the benefits of efficiency and environmentally friendly fuel cell power generated on-site."
BAM Deutschland, a leading construction company in Germany and a subsidiary of the Dutch Royal BAM Group, is developing the headquarters for the Federal Ministry of Education and Research that incorporates leading-edge sustainability and efficiency technology. A variety of innovative energy concepts will be incorporated including thermo-active cooling/heating blankets in the ceilings, LED technology for lighting and large scale solar panels. An intelligent network (i.e. smart grid) will be incorporated throughout the 54,000 square meter complex to manage the individual service elements.
The power plant will utilize high efficiency and virtually pollution-free fuel cell power to meet approximately 40 percent of the electrical and 20 percent of the thermal power needs of the complex. A key benefit of the DFC250-EU® being used in this application is the ability to provide both power and usable high quality heat from the same unit of fuel, supporting the economics through lower fuel usage as well as advancing sustainability initiatives. For this application, the heat will be used to generate steam for facility heating in the winter and will support an absorption chiller for cooling in the warmer months.
"Fraunhofer IKTS is excited to be supporting this highly visible installation at the Federal Ministry of Education and Research," said Prof. Dr. Alexander Michaelis, Director, Fraunhofer IKTS. "Distributed fuel cell power generation is an important component of addressing the power generation challenges facing Germany and this installation will showcase a German fuel cell solution."
This contract is a key milestone for FCES since its founding in May of this year. FCES is a joint venture between Fraunhofer IKTS and FuelCell Energy, Inc., and the three entities are working together to develop the European market for stationary fuel cell power plants as well as perform advanced R&D on the Direct FuelCell® (DFC®) technology to further enhance performance and the cost profile. DFC power plants are a proven technology providing a stable, highly efficient and ultra clean alternative for stationary power generation applications around the world. FCES, with its German manufacturing base, is the manufacturing, sales, and service platform for the European Served Area for FuelCell Energy, Inc.
"Our ultra-clean on-site power generation solutions are applicable for a broad range of markets in Germany such as this government complex that requires reliable and efficient power," said Chip Bottone, President and Chief Executive Officer FuelCell Energy, Inc. and Managing Director, FuelCell Energy Solutions, GmbH. "Our fuel cell plants are scalable and ideal for on-site power where economics and sustainability are important as well as being well suited for electric grid support to supplement power generation throughout a utility service area."
This showcase government project in downtown Berlin for BMBF highlights the strengths of a team that includes the capabilities of BAM Deutschland AG in the planning, construction and operation of turnkey large-scale projects in Germany with the technological strength of Fraunhofer and commercial strengths of the Direct FuelCell power plants and FuelCell Energy.
FuelCell Energy Solutions is a joint venture that is 75 percent owned by FuelCell Energy, Inc. and 25 percent owned by Fraunhofer IKTS. Financial results are consolidated in the financial statements of FuelCell Energy, Inc. The contracts for the power plant, installation and service were executed in July and will be included in the backlog of FuelCell Energy for the third quarter of 2012. Contract terms include a down payment that is due during the fourth quarter of 2012.
The sales contract between BAM Deutschland AG and FuelCell Energy Solutions was closed with the participation of the Fraunhofer-Gesellschaft. The Fraunhofer Institute for Ceramic Technologies and Systems IKTS is an affiliate, focusing on the development of new energy supply systems using ceramic system components. Fraunhofer IKTS has proprietary rights and patents from fuel cell technology research.
Direct FuelCell® (DFC®) power plants provide ultra-clean electricity and heat in a highly efficient and reliable manner. Fuel cells generate power through an electrochemical reaction that does not require combustion. Due to this lack of combustion, fuel cells generate power that is virtually absent of pollutants such as nitrogen oxide (NOx), sulfur dioxide (SOx) and particulate matter.
Featured Product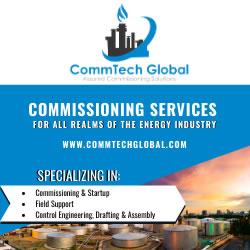 CommTech Global Solutions, LLC, provides professional and reliable commissioning services to customers in all realms of the energy industry. We blend our skills in engineering and technology with innovative business models, offering a complete range of services to assist you for a successful and in compliance operational startup. Consolidation of all our service domains gives our clients a comprehensive set of expertise and far-reaching experience on each project.