HIQAP™ 1000 Ah Lithium Battery replacement to industrial lead acid batteries in solar storage applications
HARBOR CITY, California. July 30, 2012—Balqon Corporation (OTC: BLQN), a developer of electric vehicles, drive systems and lithium battery storage devices, introduces low cost high capacity lithium batteries as an alternative to the current industrial deep cycle lead acid batteries. The new HIQAP™ batteries are available in 12, 24 and 48 Volt configurations with an amp hour capacity ranging between 700 Ah to 1000 Ah. HIQAP™ battery packs include Balqon proprietary Battery Management System (BMS) and related power electronics components for direct replacement of current lead acid battery packs. HIQAP™ lithium battery packs are designed to support large daily loads requiring deep depth of discharge and high energy transfer efficiency for solar, micro-grids, off-grid storage and telecom applications.

"The significant growth of solar installations in the United States combined with an increase in lead acid battery pricing makes HIQAP™ batteries cost competitive for large energy storage applications" said Mr. Balwinder Samra, CEO of Balqon Corporation. "With estimated life of over 10 years and high energy transfer efficiency of lithium batteries, users can now capture 15% more energy from the solar panels". "Growing worldwide concern over lead contamination resulting from lead acid batteries can hamper sustainable growth of the solar industry. HIQAP™ low cost, high efficiency, long life and zero maintenance can help long term growth of the industry", he added.
HIQAP™ batteries include large format 1000 Ah and 700 Ah, 3.25 VDC folded prismatic cells connected in a series, available in 12V, 24V and 48V configurations. Life cycle of HIQAP™ batteries vary from 2500 cycles to 5000 cycles based on depth of discharge. Low internal resistance allows for over 95% efficiency during energy transfer compared to 80% efficiency of equivalent deep cycle lead acid batteries.
About Balqon Corporation
Headquartered in Harbor City, California, Balqon Corporation is a leading developer of zero-emissions electric drive systems, lithium battery storage systems and medium to heavy-duty electric vehicles. Balqon electric vehicles and drive systems are marketed globally to companies, governments and municipalities looking for viable and effective ways to reduce their vehicle maintenance and operating costs and lower carbon emissions. Balqon is recognized as a pioneer in commercial electric vehicle technology and development of energy efficient transportation solutions. For more information, please visit http://www.balqon.com/store.php. Balqon Corporation's common stock trades on the OTC Bulletin Board under the symbol "BLQN". Follow us on Twitter @hiqapbattery or http://twitter.com/hiqapbattery or visit our Facebook page at: http://www.facebook.com/hiqap.
Media Contact:
Balwinder Samra
Balqon Corporation
310-326-3056
sales@balqon.com
Safe Harbor Statement Under the Private Securities Litigation Reform Act of 1995
With the exception of historical information, the matters discussed in this press release, including without limitation, the economic and commercial viability of Balqon Corporation's vehicles, including the HIQAP™; whether the HIQAP™ will be lower in cost than lead acid batteries; whether the HIQAP™ will provide its users with lower operating costs than the operating costs incurred by users of deep cycle lead acid batteries are forward looking statements that involve a number of risks and uncertainties. The actual future results of Balqon Corporation could differ from those statements. Factors that could cause or contribute to such differences include, but are not limited to, market acceptance of the Balqon's technologies and solutions; unforeseen technical issues; Balqon Corporation's ability to attract sufficient capital and labor to manufacture its products; the ability of Balqon Corporation to attract and retain talented individuals; adverse economic and market conditions; the projected future demand for Balqon Corporation's products, including the changes in technology and governmental regulations and policies; and other events, factors and risks previously and from time to time disclosed in Balqon Corporation's filings with the Securities and Exchange Commission, including, specifically, those factors set forth in the "Risk Factors" section of Balqon Corporation's most recent Annual Report on Form 10-K filed with the Securities and Exchange Commission.
Featured Product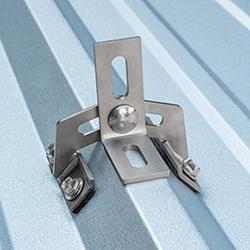 Explore new lines of income for your solar installation business with QuickBOLT's Stone Coated Steel roof mounts designed in partnership with metal roof manufacturers themselves. These SCS roof mounts work on all metal tile profiles and will help you bring in money you're missing out on. By not driving into the roofing material, QuickBOLT's Stone Coated Steel roof hooks maintain the integrity of the roof. Install with ease and confidence knowing your roof is protected against the harsh elements that these hooks are designed for.