Mass production of C70 scheduled for later this year----- Adds to China's Leading Role as World's Top Market for Electric Vehicles
WESTBOROUGH, Mass. & BEIJING--Boston-Power, Inc., the rapidly growing provider of next-generation lithium-ion battery cells, modules and systems, today announced a multi-year agreement to provide battery systems to Beijing Electric Vehicle Company (BJEV), the electric vehicle delivery arm of Beijing Automotive Industry Company (BAIC). Reflecting a long-standing working relationship between the two companies, it is projected that Boston-Power's battery systems will be used in hundreds of electric vehicles (EVs) starting in 2012 and thousands of EVs by 2014.

"China is committed to leading the world in electric vehicle innovation, manufacturing, public policy, consumer adoption and export," said Boston-Power Chairman Sonny Wu. "Boston-Power's award-winning battery systems can play a significant role in helping to accomplish those goals. We're pleased to team with Beijing Electric Vehicle Company and Beijing Automotive Industry Company to bring world-class EVs to the market."
Under terms of the agreement, Boston-Power's battery systems are expected to support multiple BJEV models and brands. Availability of pre-ordered vehicles begins in fourth calendar quarter 2012 with the C70 sedan, which is based on the 9-5 SAAB chassis BAIC acquired in 2009.
"China's stated policy is to lead the world in the development of clean transportation and we intend to produce thousands of hybrid and electric vehicles," said Fang Qing, general manager of Beijing Electric Vehicle Company. "We are impressed with Boston-Power's green and high performing technology. We welcome the opportunity to work with the company and our other key suppliers to bring EVs to consumers in China and around the world."
According to Pike Research, a part of Navigant's Energy Practice, the market for Li-ion batteries for transportation will grow from $2 billion annually in 2011 to more than $14.6 billion by 2017. Gas prices, increased oil dependence, and a growing desire for zero-emission vehicles are driving consumer change and buying behaviors. The research firm points to China and the U.S. as the two markets currently best positioned to enjoy the strongest growth rates for EV adoption. Notably, China is recognized in the report for being a world leader in instituting government policies to incent consumer adoption of EVs.
In September 2011, Boston-Power announced $125 million in funding from a combination of private equity investment and support from China. The growth capital and Chinese government incentives are being used to scale manufacturing, research and development, and business development activities in China. The private equity round was led by GSR Ventures, a venture capital firm with over $1 billion under management that invests primarily in early stage and growth stage technology companies with substantial operations in China. Additionally, through its stimulus programs and local industrial policies, the Chinese government is providing a range of grants, low-interest loans and related financial and tax incentives.
As part of its plans, Boston-Power is establishing a world-class R&D and EV battery engineering facility in China. This organization is building upon the current generation of Boston-Power's lithium-ion battery technology to develop new energy storage products and solutions. The company is also building a state-of-the-art manufacturing facility in China that will be capable of producing 400 megawatt hours (MWh) of lithium-ion battery cells annually by the end of 2012.
An internationally recognized provider of lithium-ion battery cells, blocks, modules and complete rechargeable energy storage systems (RESS) for the automotive industry, Boston-Power's EV-focused Swing products offer industry-leading capabilities in energy density, cycle and calendar life, operating temperature range, safety and environmental sustainability for electric transportation. Industry benchmark-setting capabilities include:
*Leading energy density with over 50% more usable energy density by volume and over 45% more by weight compared to the industry;
*10 year reliable calendar life at high recharge acceptance;
*Industry leading operating temperature range down to -40C (discharge);
*Unparalleled system safety at the cell, block, module and system level; and
*Cost-effective thermal management, with options encompassing integrated liquid or air cooling channels or no need for cooling channels required.
"Boston-Power delivers longer lasting, better performing, faster charging, safer and more environmentally sustainable battery solutions to market leaders around the world," said Boston-Power Founder and International Chairman Dr. Christina Lampe-Önnerud. "China has one of the world's most aggressive plans to promote EVs and we're thrilled to be working with BJEV to bring more environmentally sustainable vehicles to consumers."
About Boston-Power
Boston-Power, Inc. is an award-winning systems provider of next-generation lithium-ion battery cells, blocks, modules and systems. Designed to fuel a wide range of applications, its flagship offerings, Swing® and Sonata®, serve as the foundation for a new era of longer lasting, faster charging, safer and environmentally sustainable batteries. The company's Swing product delivers unmatched capabilities for Battery Electric and Plug-In Hybrid Electric Vehicles (BEV/PHEV), and utility energy storage applications. Sonata delivers industry leading performance to the portable power and notebook computer markets.
Featured Product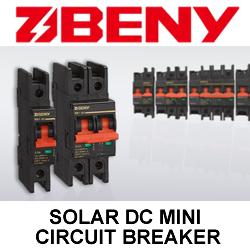 The BB1-63 modular miniature circuit-breakers can be used in solar DC circuits up to 1200 VDC (4-poles execution). Application in solar DC circuits, battery energy storage systems and UPS. Arc flash barrier design keeps solar equipment more safe and reliable. For DC circuit over-current protection.