Combines project financing and development solutions for utility & commercial customers
SANTA CLARA, Calif.--Hanwha SolarOne Co. Ltd. (Hanwha SolarOne), a top-10 global photovoltaic manufacturer of low-cost, high-quality solar photovoltaic modules, has launched Hanwha SolarEnergy America (HSEA), expanding the company's North American capabilities downstream with project financing, development, engineering, procurement, construction (EPC) and operations & maintenance (O&M) solutions. The company serves customers in the utility and commercial sectors.

The launch of HSEA marks the completion of integrating Solar Monkey, the Irvine, Calif. based developer Hanwha Solar purchased an initial stake in January 2011, with the Hanwha Solar network. The newly branded HSEA has developed a project pipeline totaling one gigawatt.
"With a thousand megawatts of projects in the pipeline, the newly branded Hanwha SolarEnergy America represents a significant force in project development," said Matthew McCullough, chief executive officer of Hanwha SolarEnergy America. "The full capabilities of Hanwha Solar, from manufacturing to project development to finance, will allow us to become a leading provider of solar energy services in North America."
Hanwha SolarEnergy America continues Hanwha Solar's expansion downstream, following strategic investments in innovative companies like OneRoof Energy for residential lease financing, tenKsolar for high energy output rooftop systems and Silent Power for energy storage. Hanwha Solar will continue to integrate these and more investments into the Hanwha Solar Network – including Hanwha's financial and manufacturing operations - to offer the most innovative, value-add solar solutions in the industry.
"This development combines three powerful assets: the strength of the Hanwha Financial Network, the manufacturing efficiencies of Hanwha SolarOne and Hanwha Chemical, and the project development expertise of Hanwha SolarEnergy America. Together, it makes us the most dynamic and reliable partner in the North American growth market for turnkey solar solutions," said Mark Bronez, president of Hanwha SolarOne USA. "Hanwha Solar is capable of supplying and carrying a project from concept all the way through to continuing operations and maintenance of a finished installation, offering great value and the highest quality along the way. By making the solar value chain more efficient, Hanwha Solar is committed to working with partners to build a clean energy future in North America and worldwide."
About Hanwha Solar
Hanwha Solar is a global provider of total solar energy solutions and a leading manufacturer of silicon ingots, wafers and photovoltaic cells and modules. As the flagship company of Korea's Hanwha Group—a FORTUNE 500 company—Hanwha Solar offers value beyond its high-quality products by providing various value-added services such as joint-development, project funding and co-marketing. As a global solar energy solution provider, Hanwha Solar maintains a strong worldwide presence, with employees located throughout Europe, North America and Asia. It embraces environmental responsibility and sustainability, playing a major role in the voluntary photovoltaic recycling program and various community-development projects. Delivering top value to customers through fully-integrated solar solutions, Hanwha Solar's overriding goal is to set new standards in innovation and value by redefining what it means to be a vertically integrated company. For more information, visit www.hanwhasolar.com.
Featured Product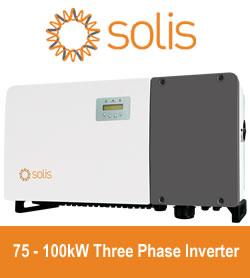 Solis75kW - 100kW series high-power string inverters are widely used in industrial and commercial rooftops. Solis's new three-phase string inverter is the first choice for industrial and commercial photovoltaics. 75-100kW three phase series string inverter have Maximum 28 strings input, support "Y" type connection in DC side. Maximum string input current 13A, support bifacial modules access.Supports anti-PID function to improve system efficiency.