Responses to the solicitation, released yesterday, must be received by 2 p.m. CST on October 5, 2012.
August 8, 2012

The U.S. Army has released its final request for proposals to obtain up to $7 billion in locally generated large-scale renewable and alternative energy through long-term power purchase agreements and "other contractual equivalents." Responses to the solicitation, released yesterday, must be received by 2 p.m. CST on October 5, 2012.
As we noted in our previous alerts on this subject (here and here) the solicitation contemplates the award of multiple Indefinite Delivery/Indefinite Quantity (ID/IQ) contracts to qualified offerors for specific renewable and alternative energy technologies, including both large and small businesses.
Individual task orders will then be competitively awarded against the ID/IQ contracts for specific renewable energy projects with a cumulative project cost of up to $7 billion in total energy value under all PPA task orders awarded under this RFP. The Army plans to purchase electric energy from the projects, but will not own the generation assets. The generation assets may be located on U.S. Department of Defense properties or on nearby private land. The contract is intended to cover installations in the continental United States, Alaska, Hawaii, and U.S. Territories, and does not encompass the purchase of power from existing generation facilities.
This RFP coincides with the announcement made August 6, 2012, that the U.S. Department of Defense and U.S. Department of the Interior have signed a Memorandum of Understanding that encourages development of renewable energy projects on up to 16 million acres of public lands that were previously set aside for defense-related purposes, and in other onshore and offshore areas near military installations.
The solicitation may be viewed at: http://go.usa.gov/Gd6. Questions will be accepted through August 24, 2012, and a pre-proposal conference is tentatively planned to be held in Chicago.
For additional background on the Army's renewable energy efforts, see our article "U.S. Army Invests in Renewables," published in the November/December 2011 volume of World-Generation.
Ballard Spahr has extensive experience with various forms of renewable energy, tax-exempt, and public-private partnership finance structures involving the Army and other branches of the U.S. military as well as related experience in other aspects of renewable energy project development and finance.
If you have any questions on opportunities regarding energy projects with the Army, please contact Roger D. Stark at 202.661.7620 or starkr@ballardspahr.com, R. Thomas Hoffmann at 202.661.2215 or hoffmannrt@ballardspahr.com, or Darin Lowder at 202.661.7631 or lowderd@ballardspahr.com.
ABOUT BALLARD SPAHR
Ballard Spahr, a national law firm with more than 500 lawyers in 13 offices in the United States, provides a range of services in litigation, business and finance, real estate, intellectual property, and public finance. Our clients include Fortune 500 companies, financial institutions, life sciences and technology companies, health systems, investors and developers, government agencies and sponsored enterprises, educational institutions, and nonprofit organizations. The firm combines a national scope of practice with strong regional market knowledge. For more information, please visit www.ballardspahr.com.
Featured Product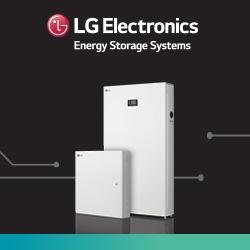 Meet LG Electronics Home 8 Energy Storage System (ESS), a whole home battery backup solution built with installers and their homeowner customers in mind. The ready-to-deploy Home 8 features just one SKU and a modular assembly for fast installation. It can be AC-coupled or solar-powered and is engineered with a grid-connected inverter, four battery modules, and a Smart Energy Box featuring a 7'' LCD touchscreen with commissioning wizard for easy setup. Each Home 8 unit can store up to 14.4 kWh of usable power, helping homeowners gain pure independence from the grid. Plus, installers can connect up to four units, bringing customers up to 57.6 kWh of total backup power-all easily managed and monitored through intuitive mobile apps.