Satisfies the new UL standards for higher voltage PV installations
Portsmouth, NH. August 13, 2012 – Woehner USA today announced the AMBUS® EasySwitch 1000Vdc fuse holder for photovoltaic applications. AMBUS EasySwitch is targeted at North American solar combiner box and inverter manufacturers who build to the UL1741 standard. The product offers a UL4248-18 listing at 1000 volts DC for 10x38 fuses as large as 30 amps. Woehner USA will showcase the AMBUS EasySwitch in booth 3387 at this year's Solar Power International from September 11 – 13, in Orlando, Florida.

The 10x38 fuse holder is suitable for use with both 1000Vdc rated UL2579 listed PV fuses or IEC60269-2 certified gPV fuses. It is available in two versions: The LED-indicator version has 2 LED lamps. Depending upon the wiring of the fuse holder and the polarity of the system wiring, one lamp will glow immediately when a fuse opens. The standard version does not include LED lamps.
"The AMBUS® EasySwitch is IP20 touch-safe and provides a safe, tool-free fuse insertion and extraction, for easy fuse installation and replacement," said Kevin Saunders, Managing Director of Woehner USA. "It also satisfies the new UL standards for higher voltage PV installations as they have increased from the previous limit of 600 volts to levels of 1000 volts."
The wire terminals on the AMBUS® EasySwitch offer the unique benefit of being multiple conductor-rated for parallel conductors and rated for use with comb-style busbars at 1000 volts. This allows installers of thin-film panels to land two strings on the primary side of one fuse-holder, which increases the cost efficiency of the combiner box in thin-film installations. The 1000 volt busbar connection eliminates the labor of combining the secondary fuse holder, with individual AWG conductors, to a costly power distribution block.
The AMBUS® EasySwitch is manufactured at a high-tech automated production facility that uses the highest grade components and is able to manufacture a product to consistently high standards.
"This AES model use an advanced grade plastic material in the device handle to satisfy the higher operating temperatures associated with PV fuses. In many instances the higher operating temperatures can undermine plastic components, making the parts brown and brittle and this will become problematic and negatively affect product performance," adds Saunders. "We believe that from a manufacturing perspective it is important to use higher quality materials that will insure a long-lasting, reliable installation. This also goes a long way in supporting the decades-long warrantees offered by many PV installers."
About Woehner
Tradition and innovation you can rely on. Since 1929, Woehner has contributed to the safe and efficient distribution of electrical energy. Through eight subsidiaries, one joint venture and a comprehensive global network of distributors, Woehner is able to provide a range of reliable, innovative and safe products that guarantee the low voltage supply of electricity for use in a wide variety of industries.
Featured Product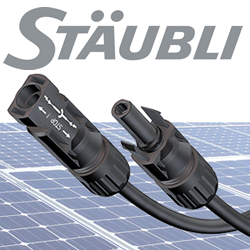 ​Stäubli Electrical Connectors are used on more than 300 GW, over 50% of the PV capacity worldwide. The MC4 family of UL and TUV listed products include connectors, in-line fuses, branch connectors, cable assembly and more.