System Designed, Engineered and Installed by BISEM Heralds the Path to Net Zero Energy Buildings
SACRAMENTO, Calif.--BISEM Inc, the nation's only provider of UL-approved photovoltaic curtain wall systems, today announced the installation of the first building integrated photovoltaic (BIPV) curtain wall retrofit in the United States with the Sacramento Municipal Utility District (SMUD). The 392-square foot wall at SMUD's LEED Platinum-certified Customer Service Center, will provide 100 percent of the DC power to run the cooling of their technology demonstration area and serve as a working model for any medium to large scale commercial building retrofit in the country.

The BISEM energy producing curtain walls help achieve a net zero energy building for new and existing commercial construction projects. The BIPV Curtain Wall Retrofit is prefabricated and assembled as a simple solution that can be mounted to any existing curtain wall. Structurally engineered connections are mounted without removing the glass or affecting the integrity of the waterproofing. This allows for cost-effective installation.
BISEM's completed installation at SMUD includes forty-nine cadmium telluride thin-film modules, which turn solar energy into electricity. The panels produce DC electricity which will be used to power swamp coolers to reduce heat build-up in the technology demonstration area of the SMUD facility. The additional power generated will leverage BISEM's proprietary multi-trade solution, which includes a monitoring system and inverters that transform all additional power produced to AC electricity. This AC power will flow back into the SMUD power grid and be constantly monitored for performance.
"Sustainable building envelope products are the future of the construction industry," said Nick Bagatelos, president of BISEM Inc. "We are passionate about bringing these new systems into the market and eager to work with SMUD to showcase our multi-trade solution that we believe to be a critical component to the design of a net zero energy commercial building."
"For decades SMUD has been on the forefront of innovation, especially in the areas of renewable energy and efficiency technologies," said Jim Barnett, Principal Architect at SMUD. "BISEM's Curtainwall retrofit provides an opportunity to take advantage of a south-facing location to generate power from the sun. The implementation also demonstrates a product that provides a practical template for the design, construction and energy production industries to incorporate today."
SMUD has consistently been a forward thinking company with a critical focus on the environment and green renewable resources and products. In the 1980's, SMUD began transforming Rancho Seco Nuclear Plant into a recreational area and built the first utility-scale solar farm. The array served as a model for large scale solar development. Over the years, SMUD also spearheaded the development of residential roof top solar and solar as parking lot shade covers.
BISEM Inc. assists architects and facility owners to achieve their vision for innovatively elegant net-zero energy building design and construction by providing the industry's first weatherproof photovoltaic curtain wall solutions. The field-proven PV curtain wall products inspire creative and visionary green-building designs that are UL approved. Each system is tested to meet stringent AAMA water and air infiltration protocols.
About BISEM
BISEM-USA engineers, manufactures and installs cost-efficient and weatherproof photovoltaic curtain wall solutions. The company's UL Approved PV curtain wall systems are the first commercially available systems of their kind in North America. Based in Sacramento, CA, BISEM builds on the twenty five years of curtain wall design and construction experience of Bagatelos Architectural Glass Systems. For more information, visit www.BISEM-USA.com.
About SMUD
As the nation's sixth largest community-owned electric service provider, SMUD has been providing low-cost, reliable electricity for more than 65 years to Sacramento County (and a small portion of Placer County). SMUD is a recognized industry leader and award winner for its innovative energy efficiency programs, renewable power technologies, and for its sustainable solutions for a healthier environment. SMUD is the first large California utility to receive more than 20 percent of its energy from renewable resources. For more information, visit smud.org.
Featured Product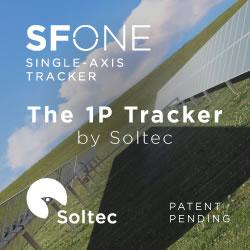 SFOne is the 1P single-axis tracker by Soltec. This tracker combines the mechanical simplicity with the extraordinary expertise of Soltec for more than 18 years. Specially designed for larger 72 an 78 cell modules, this tracker is self-powered thanks to its dedicated module, which results into a lower cost-operational power supply. The SFOne has a 5% less piles than standard competitor, what reduces a 75% the labor time.