CSP Today are pleased to announce the launch of the CSP Parabolic Trough and the CSP Solar Tower reports available from today. These two in-depth reports provide real data on cost and performance to plan, measure and optimize profitability in CSP.
In spite of Parabolic Trough being the most mature and widely deployed of all CSP technology's – accounting for no less than 95.6% of the current global installed MW capacity of CSP – only a small number of developers and EPC contractors know the real costs of Parabolic Trough.

With Solar Tower's growing market share set to alter the CSP technological landscape and claims that it could represent CSP's most viable route towards grid-parity mounting, the eyes of the industry are increasingly zooming in on this technology. Yet, currently there exists a critical lack of transparency surrounding the cost and performance parameters of Solar Tower
The conundrum is that in revealing such sensitive information developers fear undermining their competitiveness within the industry, yet in withholding such information the competitiveness and development of the industry is undermined.
These 2 recently published reports offer:
Which CSP technology offers the most viable route to grid-parity
Current and projected LCOE's
Expected penetration levels
Latest R&D initiatives and technological advancements set to optimize performance and reduce costs
Comprehensive cost breakdown data from CAPEX to OPEX
Performance sensitivity analysis
The CSP Parabolic Trough report and the CSP Solar Tower report are available from today. For more information about methodology, table of contents, figures and companies involved, please visit:
http://www.csptoday.com/csp-technology-report/index.php
For more information please contact:
Bea GonzŠlez
CSP Today
bea@csptoday.com
About CSP Today: CSP Today is the reference point for CSP professionals and a cornerstone for communications within the industry. We aim to provide you with industry focused news, events, reports, updates and information for the Concentrated Solar Thermal Power industry.
Featured Product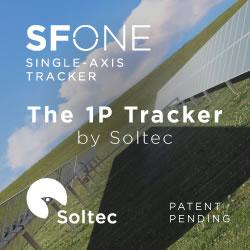 Soltec manufactures and supplies solar trackers designed and proven for extreme climate conditions, which is an ideal solution for any region's environment. Soltec's trackers are self-powered, requiring no additional PV module or grid-powered connection. Bifacial modules collect energy on both the front and rear sides, capturing reflected irradiance from the ground surface under and around the tracker and from other modules. Depending on site conditions, bifacial yield-gain can reach +30 percent.