New Energy Infrastructure Development Report provides insight and empirical data on previously opaque markets, detailing when new oil & gas capacity comes online.
HOUSTON, TX and LONGMONT, Colo. -- August XX, 2012 -- Genscape, a pioneer in sophisticated and patented energy monitoring technology, and DigitalGlobe (NYSE: DGI), a leading global provider of high-resolution earth imagery solutions, today announced the launch of their new jointly produced Energy Infrastructure Development Report.

Published monthly, each report features high-resolution imagery of key energy production and distribution facilities worldwide, captured by DigitalGlobe's leading constellation of satellites. In addition, each report includes expert analysis of the imagery from Genscape and the DigitalGlobe Analysis Center, pointing out the status of operations at existing facilities and providing updates on construction and equipping of facilities under construction.
This unique combination of imagery and insight gives analysts in global energy markets unprecedented access to empirical data for a wide range of infrastructure assets, including storage tanks, rail, truck and marine terminals, pipelines, pumping stations, refineries, fractionators, and more. Further, by detailing how these assets impact and connect to existing systems and functions, the reports help analysts objectively determine when new capacity is coming online and at what flow rates.
"By deploying sophisticated satellite tracking in combination with deep expertise in large-cap energy construction projects, this new service provides energy analysts with a level of market transparency never before seen," said Chris Sternberg, managing director at Genscape. "It's a bright light in what was a dark room."
"This is going to revolutionize how energy tracking, reporting and analysis gets done," said Bert Turner, senior vice president at DigitalGlobe. "For the first time, energy market participants will have direct access to objective, midstream production data for facilities regardless of the facility's location. With our unique ability to capture data from anywhere on the planet, we can give every trader and analyst the information edge they need, regardless if the project is half way across the country, or half way across the world."
The first Energy Infrastructure Development Report details midstream infrastructure development in the Eagle Ford, Texas shale. To request a free trial and view a sample report, visit: www.genscape.com/energy_infrastructure. About Genscape
Genscape is the leading global provider of energy information for commodity and financial markets. Utilizing patented technologies and proprietary algorithms, Genscape provides accurate and timely data on capacities flow and utilization for all major energy commodities. The product range includes the well-known real-time services for power and gas in North America and Europe. Genscape also delivers fundamentals-based market intelligence services which market participants rely upon to better understand drivers, risks, and dynamics of regional power and gas markets. Genscape is committed to enhancing the market activities of our clients through access to superior fundamental data and market intelligence.
About DigitalGlobe DigitalGlobe is a leading global provider of commercial high-resolution earth imagery products and services. Sourced from our own advanced satellite constellation, our imagery solutions support a wide variety of uses within defense and intelligence, civil agencies, mapping and analysis, environmental monitoring, oil and gas exploration, infrastructure management, Internet portals and navigation technology. With our collection sources and comprehensive ImageLibrary (containing more than 2.4 billion square kilometers of earth imagery and imagery products) we offer a range of on- and off-line products and services designed to enable customers to easily access and integrate
our imagery into their business operations and applications. For more information, visit www.digitalglobe.com.
Featured Product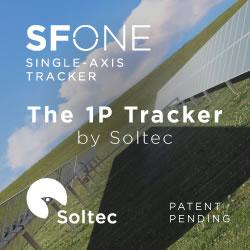 SFOne is the 1P single-axis tracker by Soltec. This tracker combines the mechanical simplicity with the extraordinary expertise of Soltec for more than 18 years. Specially designed for larger 72 an 78 cell modules, this tracker is self-powered thanks to its dedicated module, which results into a lower cost-operational power supply. The SFOne has a 5% less piles than standard competitor, what reduces a 75% the labor time.