The two batteries are small and lightweight despite their high capacity, weighing just 10 and 13 pounds respectively.
Chicago, IL – AllCell Technologies LLC, a leading manufacturer of lithium-ion batteries for transportation and renewable energy applications, launched two new standard electric bike batteries with exceptional capacity and drive range. The 48 volt batteries come in 15 and 20 amp-hour options, providing the best drive range available in the eBike industry today. Protected by AllCell's patented thermal management technology, the two batteries are small and lightweight despite their high capacity, weighing just 10 and 13 pounds respectively.

The new products were developed in response to the constant innovation of the eBike industry, which has been driving the development of a growing variety of high-performance electric bikes. The 15 amp-hour battery provides up to 2 kilowatts of power, while the 20 amp-hour model tops out at 2.4 kilowatts, more than enough power for even the most demanding riders.
AllCell's compact and long-lasting batteries are based on the company's proprietary thermal management technology, a composite material made of graphite and phase change material (PCM). By absorbing and conducting heat away from the lithium-ion cells, AllCell's PCM plays the same role that complicated liquid cooling systems perform in today's electric cars, but at a fraction of the cost. Because no other electric bike batteries have a thermal management system at all, AllCell's batteries last 50% - 100% longer than analogous competitive batteries. As batteries get larger, the thermal management challenge grows exponentially, which is why AllCell is the only company able to offer such high-capacity 48 volt batteries with high energy density.
"Our new 48 volt batteries fill a distinct niche within the market," said AllCell CEO Said Al-Hallaj. "If you are building a high performance eBike that requires both high power and long range, but can't afford to include a bulky, heavy battery, AllCell is your best option."
About AllCell Technologies
AllCell Technologies (www.allcelltech.com) designs and manufactures lithium-ion battery packs for transportation and renewable energy applications. The company's patented thermal management technology allows production of compact, lightweight, and long-lasting batteries. AllCell's thermal management technology is based on the use of phase change materials (PCM) to surround each lithium-ion cell, absorbing and conducting heat away to dramatically extend the life of the cells and prevent fire or damage to the battery. AllCell's products avoid the need for expensive, complicated, and inefficient active thermal management systems, replacing pumps, motors, and hoses with an elegant passive system that requires no energy to operate and has no moving parts.
Featured Product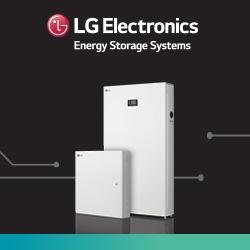 Meet LG Electronics Home 8 Energy Storage System (ESS), a whole home battery backup solution built with installers and their homeowner customers in mind. The ready-to-deploy Home 8 features just one SKU and a modular assembly for fast installation. It can be AC-coupled or solar-powered and is engineered with a grid-connected inverter, four battery modules, and a Smart Energy Box featuring a 7'' LCD touchscreen with commissioning wizard for easy setup. Each Home 8 unit can store up to 14.4 kWh of usable power, helping homeowners gain pure independence from the grid. Plus, installers can connect up to four units, bringing customers up to 57.6 kWh of total backup power-all easily managed and monitored through intuitive mobile apps.