Beneby leads largest solar power generation project in U.S. among public power utilities.
Washington, D.C. August 17, 2012

The Solar Electric Power Association (SEPA) today named CPS Energy President and CEO Doyle Beneby its 2012 Utility CEO of the Year for his leadership in integrating solar power into the company's energy portfolio.
Most notably, Beneby led a groundbreaking public-private partnership in July between CPS Energy and OCI Solar Power. OCI Solar will develop, own and operate the largest public power utility solar project in the country, which is estimated to generate more than 400 megawatts (MW) of solar energy through a consortium of partners. At their peak, the solar facilities are expected to power more than 70,000 local households – or about 10 percent of San Antonio's households.
The project is expected to catapult Texas into one of the top five U.S. solar-producing states.
"The Solar Electric Power Association is pleased to recognize Doyle Beneby as its 2012 Utility CEO of the Year," said Julia Hamm, SEPA President and CEO. "He understands the importance of integrating solar power into the San Antonio region's energy mix and we applaud his ongoing commitment to further diversify CPS Energy's electricity generation."
In 2011, the utility commissioned 30MW of solar power in a partnership with SunEdison. CPS Energy expects to reach its goal of having 20 percent (or 1,500MW) of its generation capacity from renewable energy by the year 2020.
"Mr. Beneby is moving San Antonio to the forefront of affordable solar energy in the U.S. and leading a charge that has the potential of transforming the region into a center for clean energy development," said Hamm.
CPS Energy is the nation's largest municipally owned energy utility providing both natural gas and electric service. Since joining the company in 2010, Beneby has led the utility's transition to a low-carbon fleet that utilizes clean coal, natural gas and nuclear combined with targeted renewable resources such as wind and solar.
A veteran of the energy industry with 25 years of experience, Beneby has expertise in many facets of the electric and gas industry including strategic planning, generation and delivery operations, and asset acquisition. Before joining CPS Energy, Beneby held positions with Exelon Corporation, CMS and FPL. Beneby serves on the boards of directors for corporate and industry organizations such as Capital Power Corporation, Keystone Energy, the American Gas Association, Texas Public Power Association (TPPA) and American Public Power Association (APPA).
SEPA will present the 2012 Utility CEO of the Year award to Mr. Beneby at its Annual Membership Meeting, to be held in Orlando, FL, on Tuesday, September 11, in conjunction with Solar Power International (SPI).
ABOUT SEPA
The Solar Electric Power Association (SEPA) is an educational non-profit dedicated to helping utilities integrate solar power into their energy portfolios for the benefit of the utility, its customers and the public good. With more than 1,000 utility and solar industry members, SEPA provides unbiased utility solar market intelligence, up-to-date information about technologies and business models, and peer-to-peer interaction. From hosting national events to one-on-one counseling, SEPA helps utilities make smart solar decisions. For more information, visit http://www.solarelectricpower.org.
Featured Product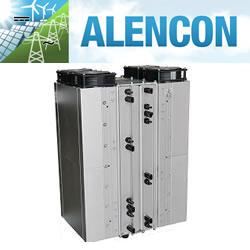 Alencon Systems is the premier manufacturer of high power, high voltage DC:DC optimizers for alternative energy applications including solar, battery energy storage, Microgrids, Fuel Cells and Electric Vehicle charging. Alencon's DC:DC converter offerings include the SPOT, BOSS and CUBE series DC:DC converters. The SPOT is a modular, uni-directional DC:DC solution ideal for solar applications. The BOSS is a modular, bi-directional unit for use with battery energy storage. The CUBE is a monolithic DC:DC converter which is available in both uni-directional and bi-directional modalities. Pictured above, is the Alencon SPOT.