Dataset will help inform energy policy, infrastructure, and market planning to accelerate integration of wind energy in the U.S.
SEATTLE (August 21, 2012) – 3TIER®, a global leader in renewable energy risk analysis, today announced that it was selected through a competitive solicitation process by the U.S. Department of Energy's National Renewable Energy Laboratory (NREL) to update the U.S. wind integration dataset. The integration of high penetrations of wind energy on the U.S. electrical grid poses special challenges given the variable nature of wind generation. The updated foundational dataset is a massive undertaking and will be used directly by NREL to explore the potential impacts of integrating large quantities of wind energy onto the U.S. electrical grid.

Accommodating increased quantities of wind energy while ensuring grid reliability will require infrastructure investments, such as new transmission lines and advanced energy dispatching technologies. By comparing wind energy production data created by 3TIER with energy demand projections, a picture emerges of prerequisite infrastructure changes, allowing relevant parties to determine the most cost-effective and pertinent forms of infrastructure expansion.
3TIER is an industry leader in applying weather simulation modeling to accurately predict wind power production over time – accounting for variability throughout the day, week, month, year, as well as long-term climatic cycles. 3TIER's upcoming effort will supplement two previous wind datasets developed separately over the western and eastern U.S. for the period of 2004-2006. An updated, geographically seamless dataset is a logical and important extension of this prior work.
The new study will use an enhanced, yet consistent methodology to provide 2007-2011 wind data across the entire continental U.S., leveraging numerical weather prediction simulations and other statistical techniques. The resulting 100+ TB dataset will include 5 years of 5 minute meteorological data at a horizontal resolution of 2 km and detailed energy production profiles for 100,000 potential onshore wind project locations and 10,000 potential offshore project locations.
"The United States enjoys some of the best wind resources in the world," said Craig Husa, 3TIER CEO, "and the installed cost of wind energy is becoming increasingly competitive. What remains less clear is the varying cost of integrating large amounts of wind energy. Efficiently and reliably making the transition to wind requires that we identify how infrastructure and markets must adapt to accommodate its generation on a grand scale. To do that, a deeper understanding of wind resource variability from a national perspective is critical."
"In a granular analysis of this type, it is essential to have a consistent and continuous dataset over the entire geographical area for the entire time period," said Dr. Jim McCaa, 3TIER director of advanced applications. "Doing so requires both a high level of technical and scientific expertise, as well as the ability to leverage substantial computational resources. These factors made 3TIER the natural choice for NREL."
"The long-awaited update to the original western and eastern datasets will provide a valuable resource to industry stakeholders for evaluating transmission expansion needs and mechanisms to reliably and cost-effectively manage the grid in high penetration wind scenarios," said Dr. Kirsten Orwig, NREL project leader. Dr. Debra Lew, leading the Western Wind and Solar Integration Study, also states that, "we are looking forward to applying these new datasets in the west and the east where they will provide a significant advancement over our previous datasets."
For more information about 3TIER, please visit http://www.3tier.com.
ABOUT 3TIER
3TIER helps the global energy market manage renewable energy risk. A pioneer in wind and solar generation risk analysis, 3TIER uses weather science to frame the risk of weather-driven variability – anywhere on earth, across all time horizons. With offices serving North America, Europe, the Middle East, Africa, India, Latin America, and the Asia Pacific region, 3TIER has global reach with services spanning renewable energy project feasibility, energy marketing, and asset management. For more information, visit www.3tier.com.
Featured Product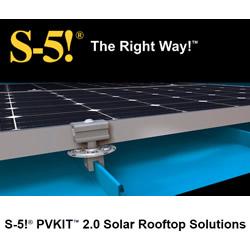 The concept of combining PV arrays with standing seam metal roofing is growing-for good reasons. Metal roofs have a life expectancy of more than 40 years. Shouldn't the mounting system last as long? With S-5! zero-penetration attachment technology and PVKIT 2.0, the solarized metal roof is the most sustainable system available -and without compromising roof warranties! PVKIT 2.0 is the also the best solution for attaching PV modules directly to any exposed fastener metal roof.