Company provides energy-efficient fixtures for park alongside Ronald Reagan's former home
Yorba Linda, Calif. (Aug. 16, 2012) — In a quiet neighborhood in Dixon, Illinois, people from around the world line up to tour the childhood home of Ronald Reagan. Now known as the "Ronald Reagan Boyhood Home & Visitors Center," the property features the home where Reagan lived with his family as well as a garage, a gift shop and welcome center, and a park.

With its beautiful canopy of trees and four sidewalk paths leading up to a large bronze statue of the former President, the Reagan Memorial Park is a perfect place for people to sit and reflect.
Though tours of the home are only available during the day, the park is open to visitors 24 hours a day year round. For that reason, lighting for the park and statue must operate from dusk until dawn 365 days a year or around 4,000 hours annually. Unfortunately, the park's lighting had failed to offer adequate lighting for many years. Then, Arne Venteris and Precision-Paragon [P2] got involved.
"I'm a big Ronald Reagan fan so when the park called me, I felt it would be an honor to help them out," says Arne Venteris, owner of Avent Energy, a company that helps facility owners reduce energy consumption.
Venteris drove out to the park to meet with Ken Buccola who heads up the property's volunteer maintenance team.
"Ken showed me around the park – it was wonderful, but the lighting was in bad shape. All of their metal halide fixtures were either in ill repair or beyond repair, and they were constantly experiencing outages," Venteris says.
After visiting the park, Venteris and Buccola called Randy Breske of Precision-Paragon [P2] to discuss possible solutions to the problem. Initially, they considered repairing the broken metal halide fixtures or installing a brand new metal halide system, but that solution was soon tossed aside.
"The park's existing lighting was primarily provided by recessed fixtures; they were experiencing degradation due to freezing ground, snow and rain. We could have replaced the existing metal halide system with similar technologies and systems, but knew it would only be a matter of time before the same situations and degraded conditions would develop," says Breske.
Soon, Venteris and Breske came up with another solution: LED.
Using [P2]'s LED spot optic fixtures, the Reagan Memorial Park maintenance team installed two fixtures aimed at the statue, two aimed at the park's American and Illinois state flags, and six highlighting the canopy of trees surrounding the pathways and statue. Unlike the old fixtures, the new ones are all above ground, eliminating the potential for weather damage and outages.
The new lighting has been a big improvement for the non-profit as well as for its neighbors.
"The lights brighten up the whole neighborhood. The way they bounce off the trees creates this wonderful glow over the entire property and really makes the park look amazing at night," says Brandi Langner, Executive Director at the Ronald Reagan Boyhood Home & Visitors Center.
The lighting also provides extra security, Langner adds.
"With the new lighting, the property's a lot less prone to vandalism. Our neighbors can see what's happening in the park at any point during the night and that makes them feel safer too," she says.
In addition to providing better light output and security, [P2]'s LED fixtures have also helped the non-profit save energy and reduce maintenance costs.
"The new fixtures offer energy savings of 4,240 kilowatt hours and a cost savings of $500 per year. Plus, they last longer – the park won't have to replace their LED fixtures for a very long time," says Breske.
The success of the Reagan Memorial Park relighting project is something Breske hopes facility owners and operators will take into account when considering a retrofit or relighting project.
"Reagan Memorial Park shows that any facility can benefit from a lighting upgrade. No project is too small –we replaced 15 metal halides with 10 LED fixtures and the difference in lighting quality and savings is tremendous. Bigger facilities have the opportunity to save even more."
About Precision-Paragon [P2]: Precision-Paragon [P2] has been manufacturing energy-efficient lighting systems and retrofit kits for nearly 20 years. Our entire company is built for one purpose, to support you.
With rapid-response manufacturing plants in California, Wisconsin and Florida, we've developed a reputation for delivering precision-built orders in less time than it takes our competitors to create a quote.
If you're looking for carefully engineered ultra-efficient lighting systems and the most dedicated customer support in the industry, then we'd like to introduce ourselves. We're Precision-Paragon [P2].
Featured Product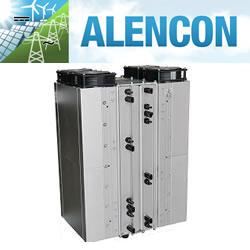 Alencon Systems is the premier manufacturer of high power, high voltage DC:DC optimizers for alternative energy applications including solar, battery energy storage, Microgrids, Fuel Cells and Electric Vehicle charging. Alencon's DC:DC converter offerings include the SPOT, BOSS and CUBE series DC:DC converters. The SPOT is a modular, uni-directional DC:DC solution ideal for solar applications. The BOSS is a modular, bi-directional unit for use with battery energy storage. The CUBE is a monolithic DC:DC converter which is available in both uni-directional and bi-directional modalities. Pictured above, is the Alencon SPOT.