The road switching locomotive features green technology that reduces pollution, noise and fuel costs
RICHMOND, B.C.,CANADA (Aug 23, 2012) -- Corvus Energy is providing 16 industrial use lithium-ion AT6500-48V batteries for a prototype hybrid switching locomotive being developed by Alternative Motive Power Systems (AMPS) with the help of a New Technology Research and Development (NTRD) grant from the Texas Commission on Environmental Quality.

AMPS modular gen-set package with a hybrid gen-set module is the first of its kind in the road switching/short line locomotive marketplace. It is anticipated that repowering a conventional road switching locomotive with AMPS hybrid gen-set package will reduce NOx emissions by up to 98% and achieve 65% fuels savings. For railcar movement indoors or in sensitive areas, AMPS Hybrid Gen-Set locomotive will be able to function for short periods of time with zero emissions due to the ability to operate without running the internal combustion engine.
The testing phase for performance and emissions will be carried out in early 2013. When complete, the environmentally-friendly locomotive will operate in the state of Texas where it will be used to move rail yard rolling stock by Railserve, Inc. A Marmon Group/Berkshire Hathaway Company. It is expected that the locomotive will be ready for the market place by spring 2013.
"Fuel efficiency is becoming more and more important to reducing operating costs," said Corvus Energy's CEO Brent Perry. "Corvus battery modules offer a reliable, off-the-shelf solution for a road switching locomotive that has extremely high power battery needs in a rugged environment."
"There aren't any successful hybrid locomotives in North America and perhaps the world," said AMPS president Dan Frederick. "Corvus is a key component in the success of this locomotive, which we believe will set new standards for rail line performance, value, efficiency and emission reductions.
"We chose Corvus batteries for good reasons," continued Frederick. "They have an excellent charge/discharge rate, a high performance rate even in cold weather, and we like that they are air-cooled not water-cooled. A bonus is that the battery management system has safety and protection built into a streamlined case that can't be readily accessed."
The locomotive sector represents an opportunity for innovation in fuel efficiency that has the potential to be transferred to other modes of transportation. Almost all locomotives used today are powered by electricity, either generated onboard through a diesel engine or provided through a connection to the electric grid (third rails or overhead lines). Hybrid locomotives which utilize stored energy from batteries are an emerging alternative to these approaches.
About AMPS
AMPS delivers superior results in transforming heavy-duty mobile equipment to hybrid electric power. The company works with manufacturers' engineers and design teams to develop new products for a growing market. AMPS assists industrial companies with specific applications in mind, then guides them toward green technology through a combination of equipment and control, transforming challenges into solutions. For more information, please visit www.AMPSonboard.com.
About Corvus Energy
Corvus Energy, based in Richmond, B.C., Canada provides industrial-sized power in a compact, modular lithium-ion battery system to commercial marine, transportation, ports machinery, remote community, off grid and grid energy markets. Its revolutionary battery packs have the capacity to output sustained power comparable to diesel engines in hybrid and full-electric vessels and vehicles. For more information, please visit www.corvus-energy.com.
Featured Product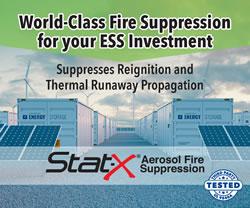 Stat-X® condensed aerosol fire suppression is a solution for energy storage systems (ESS) and battery energy storage systems (BESS) applications. Our Stat-X condensed aerosol fire extinguishing product was tested for efficacy in suppressing li-ion battery fires. It was found that the product successfully extinguished single and double cell battery fires. This testing was conducted in parallel with a large battery fire testing program on behalf of a large energy storage company.