Columbia Biogas signs agreement with PacifiCorp to connect to grid
Portland, Ore.—Columbia Biogas has entered into a Small Generator Interconnection Agreement with PacifiCorp Transmission for interconnection to PacifiCorp's Killingsworth substation in Northeast Portland. Columbia Biogas will convert commercial food waste to renewable power from its plant on Columbia Boulevard in Northeast Portland. Under the agreement, Columbia Biogas will deliver electrical power to the PacifiCorp system.

PacifiCorp serves 1.7 million retail electric customers in six western states and operates as Pacific Power in Oregon, Washington and California. "This is another landmark agreement with PacifiCorp," said John McKinney, president of Columbia Biogas. "We believe we are one of the first municipal food waste-to-energy projects in the United States which is located within an urban industrial setting. We value our partnership with PacifiCorp and look forward to celebrating groundbreaking this fall and beginning commercial operations in late 2013."
"On behalf of our customers, we are pleased with what this new agreement with Columbia Biogas does for renewable energy generation," said Pat Egan, vice president of customer and community affairs for Pacific Power, the local utility operation of PacifiCorp. "We appreciate the opportunity to work on this deal together with Columbia Biogas, to bring cost-effective renewable energy to our customers."
The renewable energy facility in Northeast Portland will convert commercial food waste from the metro area into multiple green products including renewable energy, water and naturally derived fertilizer. Columbia Biogas will receive food waste from commercial and industrial sources such as grocery stores, restaurants, food distributors as well as food and beverage manufacturers. A process of anaerobic digestion in sealed tanks will degrade organic matter to produce methane-rich biogas.
In May, Columbia Biogas signed a Power Purchase Agreement with PacifiCorp for the energy output of its plant. The facility is expected to initially generate 3 megawatts (MW) of electrical power which is equivalent to the electrical needs of as many as 3,000 average homes. Ultimately, Columbia Biogas intends to increase its electrical production to 5 MW.
The Columbia Biogas facility will be located in Northeast Portland at 6849 NE Columbia Boulevard near Interstate-205. The site is centrally located in an industrial zoned area and provides convenient access for the delivery of food waste. In 2010, the Oregon Department of Environmental Quality and Metro approved permits for the facility.
About Columbia Biogas
Columbia Biogas is an innovative clean energy company focused on the development of a biogas facility in Portland, Oregon, that will convert commercial food waste into renewable energy, water and naturally derived fertilizer. The Columbia Biogas team has significant experience in project development and project financing of utility scale renewable energy facilities as well as a long history in the design and operations of wastewater treatment facilities incorporating anaerobic digestion. For more information, visit www.columbiabiogas.com.
About PacifiCorp
PacifiCorp is one of the lowest-cost electricity producers in the United States, serving more than 1.7 million customers in the West. PacifiCorp operates as Pacific Power in Oregon, Washington and California, and as Rocky Mountain Power in Utah, Wyoming and Idaho. With a company-owned net generation capacity of almost 10,600 megawatts from coal, hydro, gas-fired combustion turbines and renewable wind and geothermal power, PacifiCorp works to meet growing energy demand while protecting and enhancing the environment. For more information, visit www.pacificorp.com
Featured Product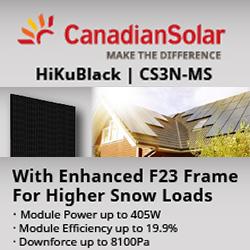 Aesthetic appearance for residential systems: With black backsheet & black frame, Power range 380 ~ 405 W, Low power loss in cell connection. Enhanced reliability: · Low temperature coefficient (Pmax): -0.34 % / °C, LID LeTID less than 2.0%, Lower hot spot temperature, Better shading tolerance.