Fuel cells, through manufacturing and deployment, are helping keep the U.S. at the forefront of the industry.
With more than 74 MW of fuel cells for stationary power and 1,700 fuel cell-powered forklifts installed or purchased in just over a year, the U.S. is expanding its fuel cell footprint beyond the two coasts. According to a new report from Fuel Cells 2000, State of the States: Fuel Cells in America 2012, the playing field is widening, with multi-megawatt installations for Apple and eBay in North Carolina and Utah respectively, fuel cell forklifts deployed in more than 19 states, and 25 fuel cell buses placed or planned for transit service around the country, helping keep the U.S. at the forefront of the fuel cell industry.

The U.S. has long been a leader in fuel cell technology – home to many of the major fuel cell manufacturers and component suppliers, the largest number of installations and deployments in several market sectors, a commanding lead in patents, and cutting-edge university research. As demonstrated in the report, this leadership is made possible by the states, whose innovative policies and strategies for business attraction have thrust the U.S. fuel cell industry forward, while bringing jobs and funding opportunities back home.
"With support and demand for fuel cells growing rapidly in almost every corner of the globe, there is tremendous opportunity for the U.S. to boost manufacturing and exports to rebound and thrive in a competitive marketplace," says Jennifer Gangi, program director, Fuel Cells 2000. "We are finding that in many parts of the U.S., the fuel cell industry offers great potential for job growth, business attraction and economic stimulus throughout the entire supply chain, and that's on top of the environmental benefits and energy security fuel cells bring to the table."
Fuel Cells 2000's new report features the "2012 Fuel Cell Power Rankings" - nine separate Top 5 lists showcasing all of the top activity in the different states and market sectors, instead of choosing overall winners as in previous reports. This allows new players to shine and shows the hard numbers to support the selection. The report includes individual state profiles cataloging all of the past year's progress in policy and deployments. It also features quotes from members of Congress and an appendices of additional resources including charts, maps and links.
State of the States: Fuel Cells in America 2012 can be downloaded for free at http://www.fuelcells.org/wp-content/uploads/2012/02/StateoftheStates2012.pdf.
Featured Product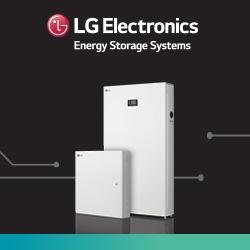 Meet LG Electronics Home 8 Energy Storage System (ESS), a whole home battery backup solution built with installers and their homeowner customers in mind. The ready-to-deploy Home 8 features just one SKU and a modular assembly for fast installation. It can be AC-coupled or solar-powered and is engineered with a grid-connected inverter, four battery modules, and a Smart Energy Box featuring a 7'' LCD touchscreen with commissioning wizard for easy setup. Each Home 8 unit can store up to 14.4 kWh of usable power, helping homeowners gain pure independence from the grid. Plus, installers can connect up to four units, bringing customers up to 57.6 kWh of total backup power-all easily managed and monitored through intuitive mobile apps.