Energy security is assured in shelters at 83 schools in Florida
HILLSBORO, Ore., Aug. 24, 2012 – As Florida braces for hurricane season, an ambitious program to install SolarWorld solar panels on 100 Florida schools by the end of 2012 has better equipped state residents to weather powerful storms. Tapping a $10 million federal stimulus grant, the Florida Solar Energy Center (FSEC) has enabled installation of a 10-kilowatt solar array at each of the schools to provide emergency power for school-based shelters in the event of storms such as the impending Hurricane Isaac.

The ground-mounted solar systems supplement the schools' electricity during normal operations while charging a bank of back-up batteries. If schools are put into service as emergency shelters, the solar systems will power their lighting and critical equipment, drawing on the batteries during dark hours.
"These installations represent multi-purpose applications of solar technology," said Kevin Kilkelly, president of SolarWorld Americas, the largest U.S. solar manufacturer for more than 35 years. "Solar is offering efficient and effective back-up power while reducing energy costs for schools and augmenting their science curriculum."
SolarWorld Authorized Installer Vergona-Bowersox Electric Inc., based in Boca Raton, Fla., has completed installations at 83 schools to date.
"These solar systems increase the value of the state's emergency shelters, making them more useful to citizens facing natural disasters," said Michael Vergona Jr., project manager for Vergona-Bowersox. "Evacuees during a hurricane now have a place to charge their cell phones, keep their medications and baby formula refrigerated, or heat up a meal."
According to FSEC, a research institute of the University of Central Florida, participating schools were selected based on their status as emergency shelters, their demographics and their renewable-energy curriculum. "This forward-thinking program, using solar energy to enhance disaster response capabilities, is an innovative example of applying green technology to meet community needs," said Susan Schleith, FSEC project manager for the SunSmart program. "This program also provides a dynamic learning resource for the classroom, allowing students and teachers to study the relationship between energy and the environment, while gaining valuable science and math skills."
For a complete list of participating schools, visit the FSCEC website. A high-resolution photo is available on the SolarWorld website.
About SolarWorld (www.SolarWorld.com)
SolarWorld (ISIN: DE0005108401) is a worldwide leader in offering brand-name, high-quality, crystalline silicon solar-power technology. The company's strength is its fully integrated solar production. From silicon as the raw material through wafers, cells and panels all the way to turn-key solar systems of all sizes, the group combines all stages of the solar value chain. The central business activity is selling high-quality panels into the installation and distribution trades and wafers to the international solar cell industry. Group headquarters are located in Bonn, Germany, with sales sites in Singapore, South Africa, Spain, France as well as in the U.S. state of California. The group's largest production facilities operate in Freiberg, Germany, and Hillsboro in the U.S. state of Oregon. Sustainability is the basis of the group strategy. Under the name Solar2World, the group supports community aid projects using off-grid solar-power solutions in developing countries, exemplifying sustainable economic development. Worldwide, SolarWorld employs about 3,000 people. SolarWorld AG has been quoted on the stock exchange since 1999 and today is listed on, among others, the TecDAX and ÷koDAX as well as in the sustainability index NAI.
About FSEC
The Florida Solar Energy Center, a research institute of the University of Central Florida, is the largest and most active state-supported energy research institute in the nation. Current divisions and their research activities include Advanced Energy Research: alternative transportation systems, hydrogen fuel and fuel cells; Buildings Research: energy-efficient buildings; and Solar Energy: solar water and pool heating and solar electric and distributed generation systems. For more information about the center, visit http://www.floridaenergycenter.org or call the FSEC Public Affairs Office at 321-638-1015.
Featured Product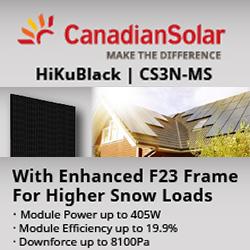 Aesthetic appearance for residential systems: With black backsheet & black frame, Power range 380 ~ 405 W, Low power loss in cell connection. Enhanced reliability: ¬∑ Low temperature coefficient (Pmax): -0.34 % / ¬įC, LID LeTID less than 2.0%, Lower hot spot temperature, Better shading tolerance.