PV Insider webinar examines the key challenges that developers and EPC groups are facing to optimize PV plant performance and reduce LCOE
It was recently announced that PV BoS revenues are projected to increase from $17 billion in 2011 to almost $24 billion in 2016, and with BoS now accounting for over 50% of the total cost of a typical utility scale project this is the primary focal point of the solar industry.

Consequently, PV insider held a complimentary webinar on 1st August 2012 to examine the key challenges faced by developers and EPC groups when optimizing PV plant performance and reducing overall costs. During the session Patsy Baynard (Director of Project Management, Quanta Power Generation), Mahesh Morjaria (VP of Global Grid Integration, First Solar) and Steve Schumer (Senior Energy Strategist, Cupertino Electric) shared their experiences on current projects in the United States.
Examining the key hurdles that Cupertino Electric is facing at the moment, Steve Schumer recognized that designing plants "to reduce losses, as well as improve predictability and reliability" are crucial to improve long-term output and ultimately reduce project costs.
The proceedings of the webinar can be viewed in full at no cost, by following the link below:
http://www.pv-insider.com/optimizationusa/content5.php
This exclusive webinar was organized in conjunction with the 3rd Utility Scale PV Plant Optimization Summit USA, taking place in San Jose on 17-18 October.
For more information about the event contact Jack Ahearne by email: jack@pv-insider.com
Featured Product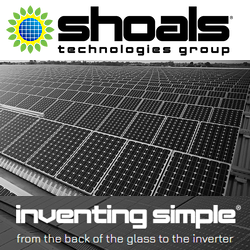 Inventing Simple® isn't just a slogan to us, it's a way of life. Using simple plug-and-play ideology, we revolutionized solar installations in 2003 with our Interconnect System™. Our harnessing system is now the gold standard EPC's use around the world. By using simple ideas, we are making solar energy a more affordable and clean power source for future generations.