The South African PV industry gears up to meet in Johannesburg
All eyes are on South African project developers as the global PV community meets in Johannesburg on 3-4 September

The PV Project Development Summit South Africa is only one week away, taking place on 3-4 September at the Hilton Sandton Hotel in Johannesburg and over 150 of PVs most influential figures, innovators and hands-on experts have now confirmed to attend.
The event will bring together leading experts throughout the global PV industry and will tackle the financial, technical and infrastructural challenges unique to South Africa, as well as examine the key lessons learned in Round I & II of the integrated resource plan.
The roadblocks faced during the development of current projects will form a critical part of the discussion with Mainstream Renewable Power, Soitec, Momentous Energy and BioTherm Energy all confirmed to participate. Each developer will provide exclusive updates on their projects; as well as share the critical lessons that have been learned since round I bids were awarded, and the steps they are taking to achieve financial close.
Organizers PV Insider have also confirmed this week that Jinko Solar, Canadian Solar, MagPower, PV PowerWay, Convert Italia S.p.A and OMC-Sunspyre will sponsor the event to unveil their latest innovations in PV technologies for South Africa, which will enable solar project developers to maximize performance.
One of the key talking points of the conference is the "Global experiences in PV Project Development" sessions with participants from First Solar, Fotowatio FRV and Gestamp Solar. Delegates will hear exclusive case studies on how maximizing performance and lowering costs has been considered during the design and construction of current projects in Europe and the United States.
The confirmed list of participants is now online and can be found on the event website at: http://www.pv-insider.com/southafrica/attendees.php
Or for more details about this event contact Jack Ahearne on the details below:
Jack Ahearne
jack@pv-insider.com
+44 (0) 20 7375 7556
Featured Product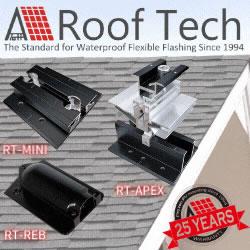 Now Roof Tech brings you the most innovative, watertight mounting systems ever developed for solar photovoltaic systems. Designed and manufactured exclusively for us by Japan's longtime leader in roofing technologies, Roof Tech products are 100% code-compliant and offer fast, simple installation and huge savings on shipping costs due to their compact, rail-less design. Learn more about our full line of versatile PV mounting solutions now available for residential installations. The next generation in rooftop solar mounting solutions."