CSP technologies use mirrors to reflect and concentrate sunlight onto receivers that collect solar energy and convert it to heat that can be used to produce electricity.
WASHINGTON -- As part of the Energy Department's SunShot Initiative, which aims to drive solar energy to be cost-competitive with other energy sources by 2020, Secretary Steven Chu announced today new investments totaling $10 million over five years for two university-led projects to advance innovative concentrating solar power (CSP) system technologies. CSP technologies use mirrors to reflect and concentrate sunlight onto receivers that collect solar energy and convert it to heat that can be used to produce electricity. Heat transfer fluids are a key component of CSP systems that transfer heat from a receiver to the point where the heat is needed to drive a turbine. The investments announced today will dramatically improve heat transfer fluids, helping to increase the efficiencies and lower costs for CSP systems.

"Advanced concentrating solar power systems represent a promising pathway for utilities to provide reliable, affordable solar electricity to American families and businesses," said Secretary Chu. "The investments made today as part of President Obama's all-of-the-above energy strategy will help accelerate commercialization of new, lower cost renewable energy technologies and diversify our nation's energy portfolio."
The projects selected today will focus on making dramatic improvements to heat transfer fluids that gather thermal energy from the sun and transport it to the power block, where the energy is used to drive a turbine that generates electricity. Today's state-of the-art heat transfer fluids are capable of operating at temperatures up to about 1,050 degrees Fahrenheit. Temperatures in excess of 1,200 degrees Fahrenheit are needed to reach efficiencies greater than 50 percent, which allow CSP plants to capture more energy from solar power. The selected projects are working to develop heat transfer fluids that can operate at temperatures up to 2,350 degrees Fahrenheit, while simultaneously maintaining high levels of performance.
Two university teams were selected to develop new heat transfer fluids including:
*University of California - Los Angeles ($5 million over five years) is leading a team with researchers from Yale University and the University of California - Berkeley to investigate liquid metals as potential heat transfer fluids with the ability to withstand higher temperatures.
*University of Arizona ($5 million over five years) is teaming with researchers from Arizona State University and Georgia Tech to develop and demonstrate new, molten salt-based, fluids as possible alternatives to traditional heat transfer fluids.
These investments are part of the Energy Department's Multidisciplinary University Research Initiative, which brings together university teams from many different scientific disciplines to advance innovative research, accelerate technology transfer into the marketplace, and prepare a new generation of scientists and engineers to become leaders in the solar power industry.
Watch our Energy 101 video to learn more about how concentrating solar power works.
The Department's SunShot Initiative is a collaborative national effort to make solar energy cost competitive with other forms of energy by the end of the decade. Inspired by President Kennedy's "Moon Shot" program that put the first man on the moon, the SunShot Initiative has created new momentum for the solar industry by highlighting the need for American competitiveness in the clean energy race.
Featured Product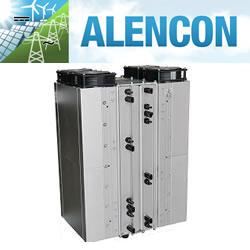 Alencon Systems is the premier manufacturer of high power, high voltage DC:DC optimizers for alternative energy applications including solar, battery energy storage, Microgrids, Fuel Cells and Electric Vehicle charging. Alencon's DC:DC converter offerings include the SPOT, BOSS and CUBE series DC:DC converters. The SPOT is a modular, uni-directional DC:DC solution ideal for solar applications. The BOSS is a modular, bi-directional unit for use with battery energy storage. The CUBE is a monolithic DC:DC converter which is available in both uni-directional and bi-directional modalities. Pictured above, is the Alencon SPOT.