NPS™ 100 Turbines Deliver Industry Leading 98+% Availability
BARRE, VT, USA (August 29, 2012) – Northern Power Systems (www.northernpower.com), a next-generation wind turbine company, announced that its NPS 100 permanent magnet direct drive (PM/DD) wind turbine fleet has achieved more than two million hours of operation. The Company's 100 kW fleet has been operating at more than 98% availability since 2008, which means that turbine owners benefit from high energy production and little downtime. Over one hundred seventy five NPS 100 wind turbines are installed and operating in 25 states in the US, as well as in the Bahamas, Canada, Italy, Ireland and the United Kingdom.

Just over one year ago, Hurricane Irene, a Class III hurricane, passed directly over two NPS 100 turbines in the Bahamas. As a testament to the robust design and safe operation of Northern Power turbines, the turbines detected high winds of up to 107.1 mph (47.9 m/s) and automatically entered safe mode. The following morning, the NPS 100 turbines returned to normal operation without any intervention. NPS turbines are designed to stand up to winds up to 133 mph (59.5 m/s).
As market leader, Northern Power Systems is continuously expanding its global fleet of NPS 100s, which require minimal infrastructure, provide easy installation and maintenance, and eliminate the need for transmission lines for grid connectivity.
"Our NPS 100 customers get clean, cost effective renewable energy from turbines that fit perfectly in remote locations as well as industrial areas and communities. The turbine's reliable, safe and simple operation gives owners peace of mind and delivers the highest energy output in its class for the best return on their investment," said Reinout Oussoren, Vice President of Global Sales at Northern Power Systems.
"We are very proud to have achieved the two million hour milestone while maintaining high fleet availability," said Troy Patton, President and CEO at Northern Power Systems. "Northern Power's PM/DD technology delivers the performance and reliability that are fundamental to the long term success of distributed power generation around the world."
About Northern Power Systems
Northern Power Systems has over 30 years of experience in developing advanced, innovative wind turbines. The Company's proven, next generation permanent magnet direct drive (PM/DD) wind turbine technology is based on a vastly simplified architecture that utilizes a unique combination of a permanent magnet generator and direct-drive design. This revolutionary approach uses fewer moving parts, delivers higher energy capture, and provides increased reliability due to reduced maintenance and downtime costs. The company currently manufactures the NPS™ 100 turbine, designed specifically for distributed wind applications such as schools, businesses, commercial farms, municipalities and diesel-powered remote communities. The NPS 100 is particularly well-suited for European feed-in tariff applications.
The Company also provides technical consulting, design services and technology licensing to the energy market through Northern Power Systems Technologies (NPST). NPST has an experienced team with a demonstrated record of success in renewables technology, power conversion, grid interconnection, and microgrid systems. Since 2011, NPST has had two NPS 2.3 MW wind turbines in successful operation in Michigan, and in 2012, the NPS 2.3 earned full DNV type certification. Northern Power Systems is a fully integrated company that designs, manufactures, and sells wind turbines into the global marketplace from its headquarters in Vermont, USA, with additional offices in Massachusetts and Michigan, USA and Zurich, Switzerland.
For more information, please visit www.northernpower.com.
Featured Product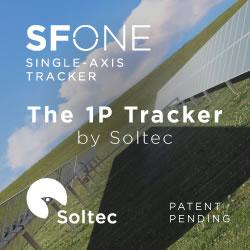 SFOne is the 1P single-axis tracker by Soltec. This tracker combines the mechanical simplicity with the extraordinary expertise of Soltec for more than 18 years. Specially designed for larger 72 an 78 cell modules, this tracker is self-powered thanks to its dedicated module, which results into a lower cost-operational power supply. The SFOne has a 5% less piles than standard competitor, what reduces a 75% the labor time.