Three important products will be showcased...
Portsmouth, NH. August 29, 2012 – In booth 3387 at this year's Solar Power International, Woehner USA will be focusing on power distribution and control. Three important products will be showcased that help the commercial, industrial and utility photovoltaic market to deal with these important issues.

These include Woehner's AMBUS® EasySwitch 1000Vdc fuse holder, a 60mm Busbar System for photovoltaic power distribution applications and Telergon's S5000 DC Load Break Switches for use in photovoltaic combiner boxes and inverters.
"As alternative energy needs grow there is a corresponding requirement for new products and solutions that facilitate the challenge of reliable distribution and control of power - which are critical safety aspects in the photovoltaic market," says Kevin Saunders, MD of Woehner USA. "We look forward to showcasing our products as well as showing current and potential users how they can help them meet these challenges."
The AMBUS EasySwitch 1000Vdc is aimed at North American solar combiner box and inverter manufacturers who build to the UL1741 standard. The 10x38 fuse holder is suitable for use with both 1000Vdc rated UL2579 listed PV fuses or IEC60269-2 certified gPV fuses.
It is IP20 touch-safe and provides a safe, tool-free fuse insertion and extraction, for easy fuse installation and replacement. Two versions are available: A standard version that does not include LED lamps and a LED-indicator version that has 2 LED lamps. Depending upon the wiring of the fuse holder and the polarity of the system wiring, one lamp will glow immediately when a fuse opens.
The AMBUS® EasySwitch offers a UL4248-18 listing at 1000 volts DC for 10x38 fuses as large as 30 amps.
Woehner's 60mm busbar system and power distribution components are perfect for AC or DC voltage at up to 4000 amps of current. It uses tinned plated copper busbars, spaced at 60mm, to distribute AC or DC voltages of up to 1500Vdc. The 60mm system also provides an alternative wiring practice, that takes the place of traditional American Wire Gauge cabling and power distribution blocks or a fabricated busbar construction. It uses compression connection components instead of the traditional method of drilling holes through raw copper busbar stock in a fabricated power distribution structure.
"The 60mm system is important to the PV market because it distributes higher levels of current than traditional power distribution blocks, eliminates parallel lengths of AWG cables and the space required to bend these cables into place. System components can be used to make the final assembly IP20 touch safe," adds Saunders.
Telergon's S5000 DC load break switches are ETL recognized to the UL98B standard at 1000Vdc and are aimed at North American photovoltaic installations that require NRTL (Nationally Recognized Test Laboratory) certification. They are currently available in four models: Size 1 (250 amp), Size 2 (400 amp), Size 3 (700 amp) and Size 4 (1250 amp).
Telergon's S5000 DC load break switches are typically used in string combiner boxes, re-combiner boxes and inverters that are constructed to the UL1741 standard and can be used to safely disconnect live direct current at up to 1000Vdc.
Woehner USA is the official distributor for the complete range of Telergon photovoltaic (PV) switches in North America.
About Woehner
Tradition and innovation you can rely on. Since 1929, Woehner has contributed to the safe and efficient distribution of electrical energy. Through eight subsidiaries, one joint venture and a comprehensive global network of distributors, Woehner is able to provide a range of reliable, innovative and safe products that guarantee the low voltage supply of electricity for use in a wide variety of industries. For further information: http://www.woehner.com/en/
Featured Product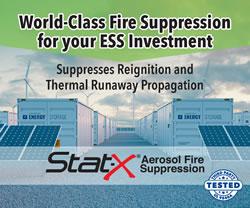 Stat-X® condensed aerosol fire suppression is a solution for energy storage systems (ESS) and battery energy storage systems (BESS) applications. Our Stat-X condensed aerosol fire extinguishing product was tested for efficacy in suppressing li-ion battery fires. It was found that the product successfully extinguished single and double cell battery fires. This testing was conducted in parallel with a large battery fire testing program on behalf of a large energy storage company.