Caleffi proudly introduces the StarMax V™ solar water heating collector for pumped glycol

and drainback systems. The patent pending design is shaped similar to a standard fouroutlet
collector, but features a fifth outlet located at the bottom center. Additionally the
internal upper and lower headers are sloped. When used in a drainback installation, this
combination allows all fluid to drain without the need to pitch the collectors. Installers will
appreciate the labor savings and owners will appreciate a collector array mounted plumb
and level on the roof. The temperature well is directly connected to absorber for very
accurate sensing.
The all copper absorbers are selective blue coated for optimum heat absorption. The
collector is housed in a solid, powder coated frame with welded corners, thus providing
long lasting life under the harshest of climate conditions. The frame is reinforced with an
injection moldered polyurethane foam, which adds to frame structural stability while
providing a high R-value. A dent free, embossed PVC back panel also minimizes heat
loss.
Contact Caleffi for additional information.
CALEFFI – Creating innovative, superior performance products that help customers live
comfortably and economically, while softening their impact on the environment.
For more information, visit Caleffi's Web site at www.caleffi.us, e-mail at
sales@caleffi.com, or call (414) 238-2360.
Featured Product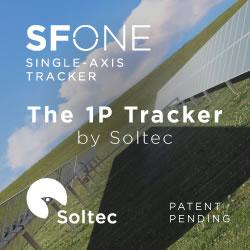 Soltec manufactures and supplies solar trackers designed and proven for extreme climate conditions, which is an ideal solution for any region's environment. Soltec's trackers are self-powered, requiring no additional PV module or grid-powered connection. Bifacial modules collect energy on both the front and rear sides, capturing reflected irradiance from the ground surface under and around the tracker and from other modules. Depending on site conditions, bifacial yield-gain can reach +30 percent.