ChargePoint, the Electric Vehicle Charging Network Leader, Recognized for Potential to Transform the Future of Business and Society
CAMPBELL, Calif.--Coulomb Technologies today announced that the Company has been named as a 2013 Technology Pioneer by the World Economic Forum. Coulomb's ChargePoint is the largest network of independently-owned charging stations for electric vehicles (EVs) in the world and was recognized for its potential to 'transform the future of business and society.' The Technology Pioneers Award, consisting of 23 of the world's most innovative technology start-ups, will be honored at the Forum's Annual Meeting of the New Champions 2012 in Tianjin, People's Republic of China, September 11 – 13, 2012.

"We are honored to accept this prestigious award from the World Economic Forum," said Pat Romano, president and CEO of ChargePoint. "We are pleased the World Economic Forum recognizes the importance of electric vehicles and the need for pervasive networked charging infrastructure. ChargePoint is contributing to the widespread adoption of electric vehicles by developing products and services that accelerate the deployment of charging infrastructure. With this, people feel confident when they purchase an electric vehicle that they will always have a place to charge."
"This year's Technology Pioneers were selected for their visionary leadership and proven technology in the areas of information technology, telecommunications and new media, life sciences and health, and energy and environment. These companies are more than pioneering the way we use technology; they are transforming how we as a society are growing and interacting with each other," said Silvia von Gunten, Head of Technology Pioneers at the World Economic Forum. "They are also providing new opportunities for people to harness the potential of technology."
Each year the World Economic Forum chooses 23-35 new Technology Pioneers from hundreds of applicants. Candidate companies are nominated by Members, constituents and collaborators of the World Economic Forum, and by the public. A selection committee, comprised of top technology and innovation experts, academics and venture capitalists, reviews all applications before making its recommendation to the World Economic Forum.
ChargePoint provides drivers state of the art features including the ability to: help with trip planning, manage the cost of charging, and find and operate public ChargePoint-enabled stations. ChargePoint locations are included on the ChargePoint mobile app for iPhone and Android. The ChargePoint mobile app provides an easy way to locate stations near any specified address, get turn-by-turn directions, and even start and stop a charging session directly from a smart phone. Additionally, the app allows drivers to utilize ChargePoint Network's station reservation feature. Drivers can locate reservable stations, and then make, view and cancel a reservation directly from a smart phone.
More information about the World Economic Forum's Technology Pioneers program can be found at http://www.weforum.org/techpioneers. View the ChargePoint video on their World Economic Forum award here: http://www.youtube.com/watch?v=ylrGx6ZMR2Y
About ChargePoint
ChargePoint is the largest online global charging network connecting electric vehicle drivers to charging stations in more than 14 countries. ChargePoint offers service plans of cloud-based solutions that handle all drivers billing and support. This provides organizations the control and flexibility they need to optimize performance of their electric vehicle charging operations. Open to all charging station manufacturers, stations on ChargePoint are currently dispensing over 600 Megawatt hours of energy each month, with drivers plugging in for more than 3,300 charging sessions per day. For more information: visit www.chargepoint.com. Follow us on Twitter @chargepointnet. Like us on Facebook @ChargePoint.
Featured Product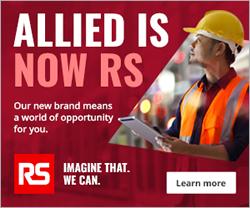 Imagine a global, end-to-end partner for industry - dedicated to solving your problems so you can drive your business forward. We can. On February 6, 2023, we officially changed our name to RS. It's just one way we're evolving to make our partnership and doing business with us even more rewarding. As RS, you have access to more support, more expertise, and more possibilities for your big and small projects - from concept and design to build and maintenance. Going forward, you'll see the RS logo on our website, social media, communications, and packaging. And rest assured, our current systems and procedures will remain intact to seamlessly process your order.