A cost-effective power control system to reduce the size of the system battery without a loss of battery life or vehicle performance.
SOUTHFIELD, Mich.--Diversified industrial manufacturer Eaton Corporation announced today it is strengthening its commitment to hybrid vehicle technology by developing a cost-effective power control system to reduce the size of the system battery without a loss of battery life or vehicle performance. The fuel-efficient application is intended to optimize the operation of hybrid electric vehicles, from passenger cars to commercial vehicles.

The $2.8 million project is funded jointly between Eaton and a grant from the Department of Energy's Advanced Research Projects Agency – Energy (ARPA-E). The goal is to reduce the size of the battery by 50 percent and improve the total performance of the system and its charge rate while maintaining fuel economy and overall vehicle performance.
"This project is a continuation of Eaton's keen focus on hybrid technology development and our confidence in the value of hybrids for the future," said Tom Stover, chief technology officer for Eaton's Vehicle Group. "Eaton is continuing to invest in developing the infrastructure that supports the future of the transportation industry, and this project is an example of how we are working to find safe, efficient and sustainable ways to improve hybrid vehicle performance."
The development project will be led by Eaton's Innovation Center team in Southfield, Mich., who will work with a team from the National Renewable Energy Laboratory (NREL). Eaton's engineers and scientists will leverage the company's expertise in intelligent power management systems and hybrid technology with the NREL's expertise in battery modeling and prognostics.
In addition to hybrid vehicle applications, Eaton sees opportunities to extend this technology into other areas where hybrid power management requires extended battery life, including community infrastructure, data centers, manufacturing and industrial.
"Only the best projects were chosen for this highly selective grant," said Chris Roche, Eaton's vice president, Innovation Center, Corporate Technology. "This type of grant is designed to fund highly transformative technologies, and Eaton and ARPA-E believe this technology is a true game changer in the area of hybrid power management."
This is the second ARPA-E grant that Eaton has received within the past month. The other project was a $3.4 million grant to develop affordable home refueling stations for natural gas vehicles (http://www.eaton.com/Eaton/OurCompany/NewsEvents/NewsReleases/PCT_378453). Eaton also has received Department of Energy grants in the past 12 months for the development of technologies for compressed natural gas, research on waste heat recovery for commercial vehicles, and fuel cell expander research.
Eaton's Vehicle Group – part of Eaton's Industrial Sector -- is supporting customers globally to safely, reliably and efficiently manage vehicle power through the design, manufacture and marketing of a comprehensive line of reliable, high-efficiency powertrain systems and components for use in the commercial vehicle and automotive industries. With 54 manufacturing, technical and engineering centers throughout the world, Eaton's Vehicle Group is focused on supplying technologies that improve fuel economy, reduce emissions, save energy and enhance the performance of its customers' vehicles.
Eaton Corporation is a diversified power management company with more than 100 years of experience providing energy-efficient solutions that help our customers effectively manage electrical, hydraulic and mechanical power. With 2011 sales of $16.0 billion, Eaton is a global technology leader in electrical components, systems and services for power quality, distribution and control; hydraulics components, systems and services for industrial and mobile equipment; aerospace fuel, hydraulics and pneumatic systems for commercial and military use; and truck and automotive drivetrain and powertrain systems for performance, fuel economy and safety. Eaton has approximately 73,000 employees and sells products to customers in more than 150 countries. For more information, visit www.eaton.com.
Featured Product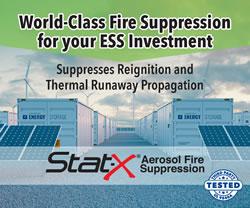 Stat-X® condensed aerosol fire suppression is a solution for energy storage systems (ESS) and battery energy storage systems (BESS) applications. Our Stat-X condensed aerosol fire extinguishing product was tested for efficacy in suppressing li-ion battery fires. It was found that the product successfully extinguished single and double cell battery fires. This testing was conducted in parallel with a large battery fire testing program on behalf of a large energy storage company.