CSP Today announced the launch of the CSP Today Global Tracker, the first CSP-specific online source of up-to-date project and plant data. This exciting brand new platform also covers policies, incentives and markets to help CSP companies streamline their business development.
With recent projections that CSP could provide 11.3% of global electricity by 2050 with 9.6% from solar power and 1.7% from backup fuels (fossil fuels or biomass), CSP project developers, EPCs and suppliers are fast realising they need to innovate, internationalise and prove CSP's commercial profitability more than ever. Top level developers, EPCs and suppliers reported in a survey that in-depth project data, markets information and trend analysis is crucial in planning their business development strategy.

The launch of the CSP Today Global Tracker now provides immediate online access to technical and market data along with analysis to help businesses plan a thorough long term strategy. This new tool also allows its users to get live industry updates as soon as something changes, and provides in-depth evaluations on the impact of those changes.
The CSP Today Global Tracker is formed of 5 components:
Project Tracker: This consists data on 200+ CSP plants including megawatt range, heat transfer fluid, operating pressure, developer, EPC and utility linked to the project, plus current status, finance and suppliers
Markets & Policy Tracker: This section provides data on installed and planned capacity, policy developments, details on how the power is bought and sold in each market, who makes the bidding decisions and incentives; EPC and developers involved in each market plus the total megawatt planned in each CSP emerging region
Premium content: This provides more in depth insight analysis on what's happening in the industry from the industry
Quarterly update: Comprising of data taken from both the Project and Markets Tracker to identity the most important changes in the industry during the last 3 months, directly translating these changes from 'news' into the impact for a CSP business
Annual Reports: Full access to business intelligence reports: CSP Today Markets report, CSP Parabolic Trough report and Solar Tower Report
To know more about the CSP Today Global Tracker, download a 7 minute data demonstration here. http://www.csptoday.com/global-tracker/content2.php
Bea Gonzalez
CSP Today
bea@csptoday.com
About CSP Today: CSP Today is the reference point for CSP professionals and a cornerstone for communications within the industry. We aim to provide you with industry focused news, events, reports, updates and information for the Concentrated Solar Thermal Power industry.
Featured Product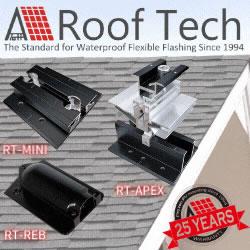 Now Roof Tech brings you the most innovative, watertight mounting systems ever developed for solar photovoltaic systems. Designed and manufactured exclusively for us by Japan's longtime leader in roofing technologies, Roof Tech products are 100% code-compliant and offer fast, simple installation and huge savings on shipping costs due to their compact, rail-less design. Learn more about our full line of versatile PV mounting solutions now available for residential installations. The next generation in rooftop solar mounting solutions."