SOLON Corporation, one of the largest providers of turnkey solar power plants and photovoltaic (PV) products in the United States, announced today the launch of a first-of-its-kind Satisfaction Guarantee Program for its award-winning SOLquick system for commercial PV rooftops.
SOLON LEADS SOLAR INDUSTRY WITH

UNIQUE SATISFACTION GUARANTEE PROGRAM FOR SOLQUICKTM COMMERCIAL ROOFTOP SYSTEM
Award-Winning Lightweight Rooftop PV System Just Got Better
Tucson, Ariz., September 6, 2012: SOLON Corporation, one of the largest providers of turnkey solar power plants and photovoltaic (PV) products in the United States, announced today the launch of the SOLquickTM Satisfaction Guarantee Program. This first-of-its-kind program provides another unique customer benefit for SOLON's lightweight, award-winning SOLquick system for commercial rooftops. If customers are not completely satisfied with their experience installing the SOLquick system, SOLON will reimburse them based on their level of satisfaction.
"We are committed to total satisfaction with our SOLquick product. This guarantee is a simple and straight forward way for SOLON to stand behind our claims that SOLquick is the best solution for lightweight commercial rooftops," said David Goldman, Vice President of Solar Products at SOLON Corporation. "By using SOLquick, installers can expand their business, win more deals, and completely satisfy their customers."
The SOLquick system, which recently won the 2012 Intersolar Award for photovoltaic innovation, integrates a frameless solar module and rack into one, pre-assembled aerodynamic unit to create an ideal system for weight constrained roofs.
In addition to the minimal weight features, the system provides the industry's fastest and easiest tool-free installation. Recent projects deployed on big box retailers, schools, and industrial applications in the U.S. have been praised by installers for the extraordinary time and cost savings they have experienced.
SOLON announced in August that they have accelerated shipments of SOLquick systems in the United States as demand grows for the system specially-designed for flat roofs with load limitations.
Additionally, SOLON has developed unique tools and expertise to help installers maximize their sales potential in the lightweight commercial rooftop market.
The SOLquick Satisfaction Guarantee will be officially introduced during SOLON's 15 year anniversary celebration and five year anniversary of U.S.-based SOLON Corporation at Solar Power International next week.
For more information on SOLquick, the Satisfaction Guarantee Program and SOLON, visit SOLON at Solar Power International 2012, in Orlando, Florida, September 10-13 at Booth 3210, or visit http://www.solon.com.
About SOLON Corporation:
SOLON Corporation (http://www.SOLON.com) is a leading provider of utility-scale and large commercial photovoltaic (PV) system solutions to the North American market. SOLON delivers complete and cost-effective turnkey PV systems to its partners with a streamlined approach from project development, design and construction to financing and operation. With NA headquarters in Tucson, AZ and offices in Phoenix and San Francisco, SOLON is driven by a passion for innovation and a commitment to providing superior solar solutions with unrivalled quality and reliability. Founded in 2007, SOLON Corporation is a subsidiary of the SOLON Group, a leading international provider of solar solutions for residential, commercial and utility-scale applications. The SOLON Group, one of oldest pure play solar companies in operation, was established in 1996 and operates subsidiaries in Germany, Italy and the U.S. with more than 600 employees worldwide. SOLON has installed over 300MW worldwide and almost 100MW in the U.S. For more information, visit http://www.SOLON.com.
U.S. Media Contacts:
Patricia Browne
SOLON Corporation
Phone: (520) 647-8754
E-mail: patricia.browne@solon.com
PR Contact:
Wendy Prabhu
Mercom Capital Group
Phone: (512) 215-4452
E-mail: solon@mercomcapital.com
Featured Product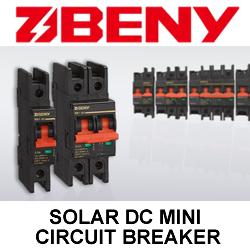 The BB1-63 modular miniature circuit-breakers can be used in solar DC circuits up to 1200 VDC (4-poles execution). Application in solar DC circuits, battery energy storage systems and UPS. Arc flash barrier design keeps solar equipment more safe and reliable. For DC circuit over-current protection.