Today, the Democratic Party released its 2012 National Platform in Charlotte, N.C., at the Democratic National Convention. Rhone Resch, President and CEO of the Solar Energy Industries Association (SEIA), the national trade association for the U.S. solar industry, issued the following statement in response to the document's call for an "All-of-the-Above Energy Policy":

"America's solar industry is pleased that the Democratic platform recognizes solar's important role and fully supports the platform's goal of making renewables a larger part of our nation's overall energy mix. SEIA further applauds the call to extend the clean energy incentives that have led to record growth and job creation in the domestic solar industry.
"Today, the solar industry employs more than 100,000 American at 5,600 companies – many of them small businesses – in all 50 states. Smart, stable policy has helped leverage the private sector investment and innovation that caused a roughly twenty-fold increase in the annual U.S. deployment of solar technology since 2005. As costs for consumers have rapidly declined, businesses and homeowners are choosing solar because it makes economic sense. By any objective measure, the policies designed to get these types of results are clearly working.
"America's solar industry stands ready to work with the Obama Administration and policymakers on a bipartisan basis to ensure that customers have access to a range of energy options and that the U.S. realizes the full potential of solar energy."
Featured Product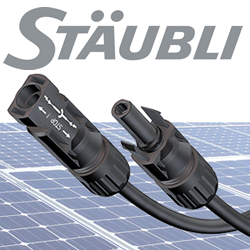 ​Stäubli Electrical Connectors are used on more than 300 GW, over 50% of the PV capacity worldwide. The MC4 family of UL and TUV listed products include connectors, in-line fuses, branch connectors, cable assembly and more.