Free visits to nearby PV panel manufacturer and solar farms to showcase solar in the Orlando area
Washington, September 5, 2012 – Attendees at next month's Solar Power International 2012

(SPI Ď12) can take a close-up view of Orlando, Fla. area state-of-the-art solar energy installations and manufacturing facilities including the rooftop PV installation at the Orange County Convention Center, a solar photovoltaic (PV) panel manufacturing plant and two solar farms. These tours, along with 900 exhibitors, demonstrate the diverse solar supply-chain. This year, nearly 200 companies are exhibiting for the first time at SPI' 12 taking place September 10th through 13th.The show is presented by the Solar Energy Industries Association (SEIA) and the Solar Electric Power Association (SEPA).
"Local solar facility tours proved popular when introduced at SPI '11 in Dallas," said Julia Hamm, SEPA president and CEO. "We've now expanded this part of our robust conference program to include three facilities giving attendees the opportunity to see first-hand the fabrication of the largest solar panels on the market today as well as a variety of solar installations including the Orlando Utility Commission's (OUC) new 6-megawatt solar farm."
On Monday, September 10, attendees can tour the Advanced Solar Photonics (ASP) photovoltaic manufacturing equipment facility in Lake Mary, Fla., where they will see the production line for the 400-watt series of mono-crystalline PV modules. Earlier this year, ASP's 100-megawatt production capacity manufacturing plant became the first net-zero solar powered photovoltaic (PV) equipment manufacturing operation in North America. This tour also includes a visit to the 1.4-megawatt Rinehart Solar Farm, the largest privately owned PV rooftop solar plant in the southeastern U.S.
Tours of the Stanton Solar Project at the Curtis H. Stanton Energy Center in east Orange County are scheduled for Monday, September 10, and Tuesday, September 11. The 6 megawatt solar farm went online in December 2011 and is owned and operated by Duke Energy Renewables and was co-developed by Regenesis. It features more than 25,000 solar panels and generates enough renewable energy to power more than 600 homes. It is the first photovoltaic facility at the Orlando Utility Commission's 3,280-acre energy center, which is home to natural gas, landfill gas and coal.
The third tour, offered Monday through Thursday, brings attendees to the Orange County Convention Center's 1-Megawatt rooftop PV system, which features nearly 6,000 solar panels and is the largest rooftop system in the southeastern U.S. The system produces approximately 1,400 megawatt hours of electricity per year, equivalent to the power used by 100 homes. Solar World and The Orlando Utility Commission are sponsoring this tour.
New exhibitors flock to SPI Ď12
To date, 900 exhibitors are expected with 198 companies making their initial appearance at the annual SPI conference, and international companies accounting for one-quarter of the new exhibitors.
"This conference is the place to be to witness the tremendous growth and innovation going on in solar energy today," said Rhone Resch, president and CEO of SEIA. "And it's the place to be to reach top decision-makers in the diverse supply-chain from global materials suppliers to project developers and installers."
BlueChip Energy, a fully integrated solar PV power generator and an SPI exhibitor since 2008, calls participation in SPI "critical to our marketing and sales strategy." Lawrence Hefler, BlueChip's director of Corporate Marketing, said, "SPI is not only the place for building industry relationships and getting in front of professionals you need to know, but also an exceptional educational venue for learning about the state of the solar marketplace. The time invested at SPI leaves me energized and inspired!"
Solar Edge, will be exhibiting its PV systems at SPI for a fourth consecutive year. John Berdner, the company's general manager for North America, points out that "SPI is providing us with a great opportunity to demonstrate our latest technology and receive feedback from our valued customers."
To register for SPI Ď12: http://www.solarpowerinternational.com/
SPI '12 sponsors include: Terrawatt - SMA; Gigawatt -Hanwha Solar; Megawatt - Bechtel and Clean Power Finance; Kilowatt - ReneSola and SunWize.
About Solar Power International 2012 (SPI)
Presented by the Solar Energy Industries Association (SEIA) and the Solar Electric Power Association (SEPA), SPI'12 is designed to serve and advance the solar power industry and draws industry professionals representing more than 100 countries. SPI '12 takes place September 10 – 13 at the Orange County Convention Center, Orlando, Florida. Registration, sponsorship, exhibitor and program information can be found at: www.solarpowerinternational.com.
About SEIA®
Established in 1974, the Solar Energy Industries Association ® is the national trade association of the U.S. solar energy industry. Through advocacy and education, SEIA and its 1,100 member companies are building a strong solar industry to power America. As the voice of the industry, SEIA works to make solar a mainstream and significant energy source by expanding markets, removing market barriers, strengthening the industry and educating the public on the benefits of solar energy. www.seia.org
About SEPA
The Solar Electric Power Association (SEPA) is an educational non-profit dedicated to helping utilities integrate solar power into their energy portfolios for the benefit of the utility, its customers and the public good. With more than 1,000 utility and solar industry members, SEPA provides unbiased utility solar market intelligence, up-to-date information about technologies and business models, and peer-to-peer interaction. From hosting national events to one-on-one counseling, SEPA helps utilities make smart solar decisions. For more information, visit www.solarelectricpower.org.
Featured Product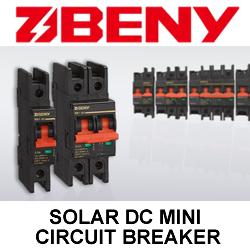 The BB1-63 modular miniature circuit-breakers can be used in solar DC circuits up to 1200 VDC (4-poles execution). Application in solar DC circuits, battery energy storage systems and UPS. Arc flash barrier design keeps solar equipment more safe and reliable. For DC circuit over-current protection.