PV Insider are delighted to announce that Docter Optics will discuss the role optics can play in the future of the concentrated photovoltaic industry at CPV USA 2012 (15-16 October, San Jose).
Docter Optics supplies global CPV companies with ready molded (no machining required) optical glass components, with expertise in both design and its proprietary DOCFast® liquid glass molding technology. With different approaches to optics available in CPV, as well as, various advances being made, industry players are now looking at what role the glass secondary optic can play in the technology's development.

At the conference, Dr. Jan Hamkens, CEO and Shareholder of Docter Optics, will take part in a critical open discussion on how suppliers of optics can contribute to the success of CPV, as well as, providing details on why strong players use optimized glass designs.
Organiser Matt Carr stated that "the addition of an internationally renowned company like Docter Optics to CPV USA 2012 will ensure that the biggest questions facing the optics industry will be addressed by the best people. Delegates will be able to engage in a constructive discussion on the future of their industry with Dr. Hamkens."
For more information about the conference visit www.pv-insider.com/cpv or contact Matt Carr at matt@pv-insider.com
Featured Product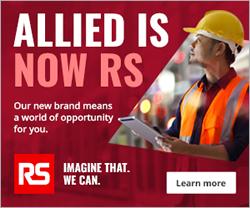 Imagine a global, end-to-end partner for industry - dedicated to solving your problems so you can drive your business forward. We can. On February 6, 2023, we officially changed our name to RS. It's just one way we're evolving to make our partnership and doing business with us even more rewarding. As RS, you have access to more support, more expertise, and more possibilities for your big and small projects - from concept and design to build and maintenance. Going forward, you'll see the RS logo on our website, social media, communications, and packaging. And rest assured, our current systems and procedures will remain intact to seamlessly process your order.