The alliance combines GE's Durathon* battery technology for grid energy storage systems and Xtreme Power's extensive experience as an integrated energy storage turn-key solutions provider.
September 10, 2012 (Schenectady, NY and Austin, TX) – GE Energy Storage, a unit of GE Transportation (NYSE: GE) and Xtreme Power, a privately held Austin, Texas company have formalized a strategic alliance to work together to provide cutting-edge energy storage solutions. The alliance combines GE's Durathon* battery technology for grid energy storage systems and Xtreme Power's extensive experience as an integrated energy storage turn-key solutions provider. The new GE Durathon battery products, which can last up to ten times longer than conventional lead acid batteries and store more energy in half the space, are the result of a $100 million initial investment in battery technology developed at GE's Global Research Center in Niskayuna, NY. GE's Durathon battery technology, when paired with Xtreme Power's Xtreme Active Control Technology** (XACT), should enable safer and highly efficient storage of massive quantities of electricity at low cost for grid applications. XACT is an innovative proprietary control system architecture that offers sophisticated control algorithms, real time response, remote monitoring, and optimized power management. Together, GE and Xtreme Power expect to tap a global segment looking for effective and efficient energy storage on the electric grids of the world, both old and new.

"Teaming up with Xtreme Power provides customers in the energy space access to turn-key solutions based on breakthrough Durathon battery technology," said Prescott Logan, General Manager of GE Energy Storage. "Our combined team's proven experience in integrating energy storage technologies with power conversion systems and the grid, as well as installing and operating multi-megawatt energy storage systems will bring real life-cycle value to our customers."
"We're honored to be working with GE Energy Storage, and confident that together we'll help deliver tomorrow's energy technology to the world's markets today," said Alan Gotcher, President & CEO of Xtreme Power. "GE's world-famous technology, matched with Xtreme Power's XACT control platform and systems integration expertise, is a win for everyone concerned about efficient, cost effective energy storage."
About GE
GE (NYSE: GE) works on things that matter. The best people and the best technologies taking on the toughest challenges. Finding solutions in energy, health and home, transportation and finance. Building, powering, moving and curing the world. Not just imagining. Doing. GE works. For more information, visit the company's website at www.ge.com.
About GE Energy Storage
GE Energy Storage, a unit of GE Transportation, works to enable safer, efficient and cost effective storage, distribution and utilization of energy where it's needed and when it's needed. As a global technology leader and supplier of advanced battery energy storage systems, we provide Durathon battery modules and complete energy storage solutions to the Telecom, UPS, Energy Management, Power Generation, Grid Operation, and Motive power industries. GE Energy Storage is headquartered in Schenectady, New York, USA. For more information visit the company's website at http://www.geenergystorage.com.
About Xtreme Power
Xtreme Power provides scalable, real-time power management and energy storage solutions that enable a more sustainable, reliable and cost-effective electric grid. Xtreme Power's Dynamic Power Resource® combines customized real time controls and intelligent power electronics with efficient energy storage technology engineered specifically to the needs of its customers. Xtreme Power enables multiple participants and technologies to simultaneously operate on the electric grid providing new flexibility that has never before been possible. Xtreme Power is a US company backed by investors SAIL Capital Partners, Bessemer Venture Partners, The Dow Chemical Company, Fluor Corp., BP Alternative Energy, Dominion Resources, POSCO ICT, SkyLake & Co. and Spring Ventures, LLC. A 2012 Bloomberg New Energy Pioneer, Xtreme Power earned the 15th spot on Inc. Magazine's 500|5000 list of the fast growing private companies in the U.S. in 2012 – the company's second year in a row making the list.
For more information, please visit http://www.xtremepower.com.
Featured Product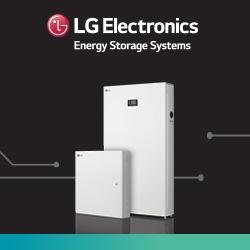 LG Solar is transforming today's solar landscape, offering precision-manufactured and high-efficiency solar panels for homeowners who demand high performance, reliability and consistently strong energy yield from a brand they can trust. LG modules feature outstanding durability, appealing aesthetics and high-efficiency technology, backed by a limited 25-year product, performance and labor (up to $450) warranty. Homeowners who purchase LG Solar modules know they're protected by a diversified global brand.