Power-One has focused on maximizing the ROI for PV utility plant owners from the product concept phase of the AURORA ULTRA(TM), through maximizing energy harvesting, lowering the total plant investment and minizing maintenance costs.
ORLANDO, Fla., Sept. 11, 2012-- SOLAR POWER INTERNATIONAL

2012 -- Power-One, Inc. (Nasdaq:PWER), a leading provider of renewable
energy and energy-efficient power conversion and power management solutions,
today announced their newest solution for large scale PV Plants, the
ULTRA-700/1100/1500-TL inverter series which is available in 780kW, 1.17MW
and 1.560MW models.
Power-One has focused on maximizing the ROI for PV utility plant owners from
the product concept phase of the AURORA ULTRA(TM), through maximizing energy
harvesting, lowering the total plant investment and minizing maintenance
costs. The AURORA ULTRA extends the power range of their inverters to 1.56
Megawatts and continues to provide the features AURORA customers have come
to expect. With a maximum of 98.6 percent efficiency and up to four
independent MPPT's, Power-One continues its leadership in energy harvesting.
In addition to high energy harvesting, the solar power generation loss in
the event of an inverter failure is reduced to 390kW, the power level of one
inverter building blocks. The inverter's modular design allows a 390kW block
to be field replaceable supporting up-time with a short mean time to repair.
The system level approach to lower initial investment of the entire plant
has resulted in innovations such as the 690Vac output voltage which enables
the use of high volume commonly available standard transformers and
protection equipment. The higher output voltage also results in decreased
cable costs offering further cost reductions.
Built with a NEMA 4X cabinet, the ULTRA is able to operate in harsh
environmental conditions. The AURORA ULTRA is available in pre-configured
turn-key solutions including the mounting pad and MV transformer under the
AURORA ULTRA STATION product line eliminating the cost of engineering.
"Power-One has looked beyond optimized inverter cost and developed inverter
features to maximize energy harvest and lower BOS costs for multi MW
projects", said Alex Levran, president of Power-One.
The AURORA maximum power point tracking (MPPT) algorithm ensures that the
inverter operates at the absolute maximum power point of the array.
The ULTRA inverter further improves the MWH plant output due to a maximum
inverter efficiency of 98.6%. In addition, the ULTRA's wide input voltage
range provides maximum energy harvesting over a wide module temperature and
insolation levels.
The ULTRA 700/1100/1500 inverters host some of the most sophisticated
communication and grid management capabilities for utility monitoring and
interconnection requirements. These features can be configured based on
specific customer requirements. The ULTRA inverter series is a true utility
scale product in every sense. The inverter monitoring further incorporates a
Power-One intelligent string combiner option to provide array level
monitoring.
To learn more about Power-One's inverter products for the United States as
well as its global portfolio, please visit
http://www.power-one.com/renewable-energy.
About Power-One
Power-One is a leading provider of renewable energy and energy-efficient
power conversion and power management solutions and is the world's second
largest designer and manufacturer of photovoltaic inverters. Its renewable
energy products enable the industry's highest yielding conversion of power
from solar arrays for use by utilities, commercial enterprises and homes.
Power-One has a 40 year history as the leader in high efficiency and high
density power supply products for a variety of industries including
Renewable Energy, Data Storage & Networking, Industrial and Network Power
Systems. The company is headquartered in Camarillo, CA and has global sales
offices, manufacturing, and R&D operations in Asia, Europe, and the
Americas.
Power-One is traded on NASDAQ under the ticker symbol PWER. For more
information, please visit www.Power-One.com.
Featured Product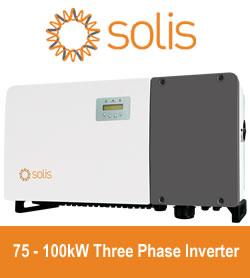 Solis75kW - 100kW series high-power string inverters are widely used in industrial and commercial rooftops. Solis's new three-phase string inverter is the first choice for industrial and commercial photovoltaics. 75-100kW three phase series string inverter have Maximum 28 strings input, support "Y" type connection in DC side. Maximum string input current 13A, support bifacial modules access.Supports anti-PID function to improve system efficiency.