Distributed wind energy in rural communities enables economic development in the form of new jobs, new industry and associated growth and spending.
Flagstaff, AZ, September 7, 2012 - The Distributed Wind Energy Association

(DWEA) recently attended both the Empire Farm Days in Seneca Falls, New
York, and the Farm Progress Show in Boone, Iowa, where the association and
its members showcased how distributed and community wind energy can be
beneficial for the agriculture industry. The shows, which each had attendees
in the thousands per day, gave DWEA and its members the opportunity to reach
out to new markets in the Midwest and Northeast agricultural sectors.
Distributed wind energy in rural communities enables economic development in
the form of new jobs, new industry and associated growth and spending.
Furthermore, distributed wind energy creates significant advantages for
rural consumers by providing locally produced electricity that is also clean
and emissions-free. By highlighting products specific to this market at the
Empire Farm Days and the Farm Progress Show, DWEA members were able to
expand their outreach to new communities of interest.
Jennifer Jenkins, the Executive Director of DWEA, was on hand at both trade
shows to explain the significant financial benefits that distributed wind
projects can provide to rural communities, and how farmers could capitalize
on the opportunity. "These events give the association and our members a
great opportunity to reach new consumers who might be interested in wind
energy, but previously did not have any way of learning about how it could
work for them," Jenkins said. "We have opened up natural opportunities to
connect businesses with interested consumers, which make these events highly
beneficial for all involved."
About the Distributed Wind Energy Association The Distributed Wind Energy
Association is a collaborative group comprised of manufacturers,
distributors, project developers, dealers, installers, and advocates, whose
primary mission is to promote and foster all aspects of the American
distributed wind energy industry. Distributed wind, commonly referred to as
small and community wind, is the use of typically smaller wind turbines at
homes, farms, businesses, and public facilities to off-set all or a portion
of on-site energy consumption. DWEA seeks to attract members and associates
from all sectors with relevant interests pertaining to the distributed wind
industry. For more information on DWEA, please go to
www.distributedwind.org.
Featured Product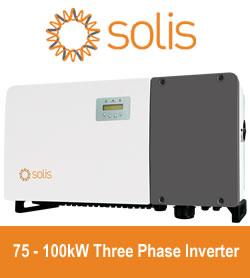 Solis75kW - 100kW series high-power string inverters are widely used in industrial and commercial rooftops. Solis's new three-phase string inverter is the first choice for industrial and commercial photovoltaics. 75-100kW three phase series string inverter have Maximum 28 strings input, support "Y" type connection in DC side. Maximum string input current 13A, support bifacial modules access.Supports anti-PID function to improve system efficiency.