At CPV USA 2012, Innovation Core SEI (a U.S. subsidiary of Sumitomo Electric Industries) will discuss the potential for Concentrated Photovoltaic technology to work with storage and EMS integrated systems.
In July, Sumitomo Electric Industries commenced operation of a megawatt-class electric power generation/storage system on the premises of its Yokohama Works. The system consists of the world's largest redox flow battery and Japan's largest CPV units.

In a presentation given at CPV USA 2012 (15-16 October, San Jose, CA) the company will discuss this game changer for the industry and how these solutions will give CPV a competitive edge over its rivals.
Matt Katayama, President of Innovation Core SEI: "We are very excited about our development of such an integrated energy system, and are dedicated to further contribute to the world with a greener and smarter energy solution!"
Event organizer Matt Carr said that "PV Insider are delighted to announce the addition of Sumitomo Electric Industries to the incredible speaker line-up at this year's CPV USA conference. The development of innovative storage solutions can only enhance the technology's bankability – and CPV USA attendees will be able to get more detail at the conference."
More details on the presentation can be found on the website www.pv-insider.com/cpv or contact Matt Carr by e-mail: matt@pv-insider.com
Featured Product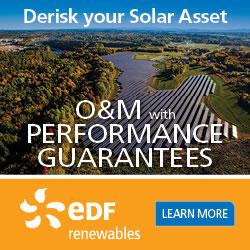 EDF Renewables offers the same innovative solutions that maximize the performance of our own 5.2 GW of installed projects. Because we're not an equipment manufacturer, our recommendations are transparent and data-driven. We cover the entire project lifecycle: from pre-commissioning support, through warranty and post warranty operation, to late stage and decommissioning.