GE Inverter Technology is Key to Plant Output, Efficiency and Scalability----- Pioneering Solar Plant Will Supply Clean Energy to Region's Heavy Industry----- Aids in Chile's Efforts to Diversify Energy Sources
NORTHERN ATACAMA DESERT, CHILE—September 12, 2012—Chile's sun-drenched northern Atacama Desert is ideal for solar photovoltaic (PV) electric power production, and GE's (NYSE: GE) advanced power conversion technology is helping to make the country's biggest industrial solar PV plant a reality. Beginning in late August 2012 the plant at La Huayca, some 85 kilometers from Iquique, will deliver to the region's mining and other heavy industries a peak output of 1.4 megawatts (MW) of solar generated, clean electric power, scalable up to 25 MW with planned expansions over the next few years.

The solar PV plant is owned and operated by a joint venture comprising solar plant specialist Saferay GmbH of Germany and engineering/construction firm SELTEC Ingeniería of Chile. Under the terms of a contract with Saferay, GE Energy Management is supplying two advanced outdoor PV inverters optimized for Saferay's specific requirements and for the ambient conditions in the region. GE also is supplying other electrical equipment including medium-voltage switchgear and transformers.
"The Chilean government's policy is that industry must source at least 20 percent of its energy from renewable sources by 2020, otherwise financial penalties will apply," said Juan Fernández, head of project management, Saferay. "That means this plant has to perform reliably and efficiently on a long-term, consistent basis, and in order to make that happen we turned to GE, whose technology, experience, resources and global presence will help make the plant a success. In turn, we expect that success to stimulate the solar PV industry throughout the entire region."
The pioneering project marks a trend towards industrial scale solar power across Latin America. It demonstrates how GE is working in Chile and elsewhere in the region to generate energy with reliable and efficient PV solutions, which assure high power quality and stability as it is fed into the grid or towards specific industries.
"We are pleased to have the opportunity to support Saferay and SELTEC in their work to deliver solar power and a more diverse, sustainable and efficient supply of energy to Chile," said Stefan Franko, business leader Renewables for GE Energy Management's Power Conversion business. "GE helps countries and companies around the world to develop long-term, reliable and efficient solutions for the use of solar power and other renewable energy technologies."
GE Energy Management's advanced power conversion technology helps project like this one produce, transform, store and transport power more reliably. By offering its solar inverter technology as part of a broad portfolio of industry-leading products and solutions, GE Energy supports ongoing energy policy initiatives such as Chile's.
GE acquired Power Conversion (then known as Converteam) in September, 2011. GE Energy Managements Power Conversion business applies the science and systems of power conversion to help drive the electric transformation of the world's energy infrastructure. Designing and delivering advanced motor, drive and control technologies that evolve today's industrial processes for a cleaner, more productive future. It serves specialized sectors such as energy, marine, industry and all related services. To learn more, please visit: www.ge-energy.com/electrifyingchange.
About GE
GE (NYSE: GE) works on things that matter. The best people and the best technologies taking on the toughest challenges. Finding solutions in energy, health and home, transportation and finance. Building, powering, moving and curing the world. Not just imagining. Doing. GE works. For more information, visit the company's website at www.ge.com.
Featured Product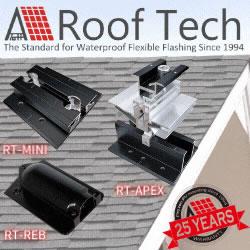 Now Roof Tech brings you the most innovative, watertight mounting systems ever developed for solar photovoltaic systems. Designed and manufactured exclusively for us by Japan's longtime leader in roofing technologies, Roof Tech products are 100% code-compliant and offer fast, simple installation and huge savings on shipping costs due to their compact, rail-less design. Learn more about our full line of versatile PV mounting solutions now available for residential installations. The next generation in rooftop solar mounting solutions."