Topics including technology, job creation, relevant government policy and economic benefits
RENO (September 12, 2012)—As the geothermal industry prepares for its annual Expo in Reno, the Geothermal Energy Association (GEA) has released a new report which details essential geothermal energy topics including technology, job creation, relevant government policy and economic benefits. The "Geothermal Basics Q&A" report, available by download on GEA's web site or in print directly from GEA, includes answers to questions that GEA is commonly asked about geothermal resources, technology and the industry. The document is supported by visual graphs and up-to-date examples from the industry, and it was prepared with the input of leading geothermal energy experts.

"Geothermal Basics Q&A" is also designed to be an introductory study guide. A list of works for further reading from within GEA's reports library and beyond encourages continuing research of geothermal as a timely energy source with answers for today's energy needs. The document is an updated version of a much-requested question-and-answer guide released by GEA in 2009.
"From government leaders to the general public, every year many different people ask us questions about geothermal energy," said GEA Executive Director Karl Gawell. "This educational guide answers some of the most common questions, and we hope it will provide a solid base of geothermal knowledge to allow the public and policy makers to be more informed about geothermal."
From September 30-October 3, the world's largest gathering of companies that provide services and products for geothermal resource exploration, characterization, development, production and management will convene at the GEA Geothermal Energy Expo in Reno. The Expo will be held at the Peppermill Resort and Casino in conjunction with the GRC Annual Meeting.
As the world's geothermal industry business center, Reno is a fitting host for the Expo. The Reno region features a high concentration of raw geothermal resources with strategic access to California and other Western states, and it is the only metro area in the United States that produces enough geothermal energy to meet its entire residential load.
On a broader scale, the state of Nevada continues to affirm its position as a geothermal leader with 59 projects in development, accounting for more than 2,000 MW. Four of the seven geothermal plants that came online in the past year are located in Nevada, including Tuscarora and McGinness Hills (Ormat Technologies), San Emidio (U.S. Geothermal), and Beowawe 2 (Terra-Gen/TAS Energy). Additionally, all three of the 2012 GEA Honors award recipients are either based in Nevada or bringing plants online in the state, including Enel Green Power North America (Technological Advancement), Ram Power (Economic Development), and Ormat Technologies, Inc. (Environmental Stewardship).
"We are very excited to return to one of our nation's geothermal hotbeds and a bright spot for the industry," added Gawell. "Nevada continues to make valuable contributions to the geothermal community and shows immense promise in terms of both geothermal energy and economics."
GEA points to over 4,500 MW of geothermal power under development in Nevada, California and Oregon to underscore that geothermal power can continue to play a significant role in meeting the United States' clean energy needs. "As evidence mounts that global warming must be urgently addressed, the geothermal industry is poised to provide substantial new power that can be firm or flexible to support a reliable electric power system," Gawell added.
Geothermal Energy Weekly, GEA's newsletter, is the association's direct forum for staying involved in what's happening in the industry and is a direct avenue for networking. Each issue provides a summary of news headlines including the latest on national, state, and international scales in geothermal businesses and communities; covers the political arena in Washington and conversations directed toward the future of renewable energy; and details important GEA events and activities. Opportunities relevant to the geothermal industry are featured and posted free of charge, including: requests for proposals; job opportunities; select upcoming events; and other key geothermal happenings, including some that are exclusively available from GEA. Subscribe to the newsletter by direct link: http://visitor.r20.constantcontact.com/manage/optin/ea?v=001321OQ3cRWBKGJynYFUws9nhKdFjdTDgqc_Tm6kv6lUkR2CNuJWYiXygrMY665QeO4vYAnhmRYJWJoDXQUvALoQ%3D%3D
Event organizers expect more than 2,000 attendees from the United States and abroad to walk the Expo floor. The complete exhibitor list is available at http://www.geothermalenergy2012.com/exhibitors.asp. The Expo is made possible with the support of Gold level sponsor Ormat, the City of Reno as a Silver level sponsor, Bronze level sponsor Pratt & Whitney, as well as sponsors Geothermal Resource Group, TNG Energy Services, Ram Power, KellyPipe, Schlumberger and Calpine.
For information on visitor registration, please visit http://www.gifttool.com/registrar/ShowEventDetails?ID=1872&EID=12336. Student registration is complimentary with valid student ID.
For more information about exhibitor and sponsorship opportunities, please contact Kathy Kent at kathy@geo-energy.org.
Requests for media credentials should be directed to Shawna Seldon at the Rosen Group,
917 971 7852 or shawna@rosengrouppr.com.
Join the conversation on Twitter by following GEA at @geoenergist and #GEAExpo.
About the Geothermal Energy Association:
The Geothermal Energy Association (GEA) is a trade association comprised of U.S. companies who support the expanded use of geothermal energy and are developing geothermal Resources worldwide for electrical power generation and direct-heat uses. GEA advocates for public policies that will promote the development and utilization of geothermal Resources, provides a forum for the industry to discuss issues and problems, encourages research and development to improve geothermal technologies, presents industry views to governmental organizations, provides assistance for the export of geothermal goods and services, compiles statistical data about the geothermal industry, and conducts education and outreach projects. For more information, please visit http://www.geo-energy.org/. Check out GEA's YouTube Channel. Follow GEA on Twitter. Become a fan on Facebook.
Featured Product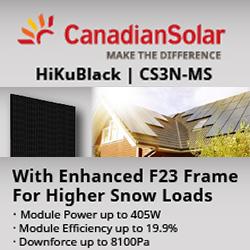 Aesthetic appearance for residential systems: With black backsheet & black frame, Power range 380 ~ 405 W, Low power loss in cell connection. Enhanced reliability: · Low temperature coefficient (Pmax): -0.34 % / °C, LID LeTID less than 2.0%, Lower hot spot temperature, Better shading tolerance.