PE Stamp certifies the correct usage of code requirements for Photovoltaic systems
West Sacramento, September 11, 2012

In September 2012, Mounting Systems Inc., the international manufacturer of solar racking systems, has received the Professional Engineer stamp (PE) for its planning software Quick Configurator. The software provided by Mounting Systems assists project developers in the professional design of a Photovoltaic racking system. The Professional Engineers stamp (PE) is a proof of structural analysis and certification. It can be applied to all states. After printing the finished calculation, the already included PE stamp confirms that the system meets or exceeds the relevant design and building code requirements. Susanne Kylla, Director Sales, says: "The Professional Engineers stamp offered by Mounting Systems is a quality feature that helps the client to save time and money. He obtains all service from us as one single provider and therefore, has no extra cost to get certification from a third party."
Details about the Quick Configurator
The planner defines all relevant data for the system, to the exact requirements of the customer. Wind and snow loads can be calculated by the planning software as well as the maximum number of modules installed per roof. Furthermore, information about the maximum output is supplied by the Quick Configurator.
Once, all important information has been entered, three-dimensional graphics will help the user to visualize the appearance of the system. The software includes twelve country-specific standards in its calculations and is available in five languages. Mounting Systems continues to add locations worldwide. The Quick Configurator automatically generates necessary item lists, and produces accurate bills of material.
About Mounting Systems
The international company Mounting Systems GmbH is one of the foremost producers of solar racking systems. With more than 19 years of expertise in the market, the company is one of the most experienced producers of racking systems and module frames for photovoltaic and solar thermal facilities.
In January 2011, Mounting Systems, Inc. was established in West Sacramento, California as a manufacturer of racking systems and components for the U.S. and Canadian market. Mounting Systems Inc. was honored with the "patriotic employer" award in 2011.
Its headquarters, the Mounting Systems GmbH, was established in 1993 in Dahlewitz/Berlin. In September 2008, Mounting Systems GmbH began operating as an independent company and has been selling its products in the market ever since. Today, the racking systems, produced in Brandenburg, Germany, are delivered to customers around the world. In 2010, Mounting Systems opened a representative office in Lyon, France. An additional representative office has been available to customers in Milton Keynes, Great Britain, since March 2012.
Mounting Systems GmbH received in 2010 a Business Award from the Potsdam Chamber of Commerce. In 2007, the Germanische Lloyd certified the site in Rangsdorf according to ISO 9001. Approximately 250 employees currently work for Mounting Systems worldwide, thereof 28 in West Sacramento, United States.
Featured Product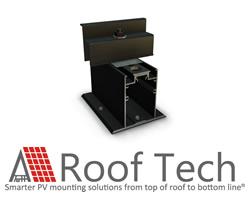 The most compact versatile rail-less PV mounting system under the sun. Instead of placing solar panels on top of long rails, simply attach E Mount AIR to rafters or the roof decking. Once panels are fastened to the roof, the system array is electrically bonded. The result is a visually seamless PV installation that stands the test of time. - Truly "One With The Roof". - PE stamped cert. letters available, UL 2703 Classified, ASTM 2140 fully waterproof. The one and only with integrated flexible flashing certified by the ICC! All the best quality. Only from Roof Tech