Ocean Renewables Energy Group conference showcases UK and Canadian expertise; highlights partnerships in marine energy
HALIFAX, NOVA SCOTIA (September 12, 2012) – The United Kingdom's leading expertise and strong international partnerships in the marine energy sector are being exemplified and reinforced this week as industry, academia and government from around the world gather at the Ocean Renewables Energy Group 2012 Annual Conference in Halifax, Nova Scotia to share best practices, foster further collaboration and catalyze the growing global industry focused on harnessing clean, renewable energy from ocean waves and tides.

The UK's vast natural resource of marine energy, its world-class research and development centers and the British government's proactive policies – including a commitment to reduce carbon emissions by 80 percent by 2050 – have positioned Great Britain as a leading nation and significant partner within the global movement to develop and implement wave and tidal energy technologies.
"The UK's long history in the ocean energy sector, paired with its global leadership in testing and validation, is an important component in scaling up this largely untapped renewable energy solution in Great Britain, Canada and globally," said Dave Pratt, Director of Nautricity, a Glasgow-based company specializing in tidal power turbine technology. Addressing the strong ties in marine energy between the UK and Canada, Pratt said, "Similar to the UK, Canada's ambitious government policies and strong research capabilities have made them ideal partners in advancing this nascent ocean power industry."
Nautricity is one of several UK companies and academic institutions currently working in Canada to develop the region's ocean power industry. The company is currently working with private partners, research institutions and the public sector on several tidal energy prospects, on both coasts.
"To stay on the cutting edge of development, Canada needs partners such as the UK to help bring these innovative technologies into everyday use. We are fully committed to doing what it takes to help this exciting industry flourish," said Gordon Campbell, High Commissioner of Canada to the United Kingdom. "Canada has the potential to provide about a quarter of the total electricity we use from marine resources, making our country a superpower in generating this unique type of renewable energy."
Collaboration between Great Britain and Canada is taking place at a policy level as well, as both countries recognize the mutual benefits and overlaps in experience in ocean energy. A joint declaration issued in September 2011 by the Prime Minister of the United Kingdom, David Cameron, and the Prime Minister of Canada, Stephen Harper, called out ocean energy specifically, citing the two countries' commitment to, "encourage the development of technology systems necessary for commercial-scale electricity production from marine energy."
"The UK-Canada partnership in marine energy is an important piece of a larger effort by both countries to foster cross-sector growth in sustainability and low carbon technologies and services," said Michael Rosenfeld, UK Trade & Investment, Vice Consul and Senior Director for Clean Technology, North America. "The success of these partnerships is largely due to both countries' long-term commitment to building a green economy," said Rosenfeld.
Marine energy is a key factor in the low carbon agenda of the UK, as wave and tidal energy present great potential for energy creation and reduction of carbon emissions. Recent estimates from the UK government predict that ocean energy has the potential to generate $23 billion (US) for the British economy by 2050. Estimates from Wave Hub, a Hayle, UK-based company focusing on offshore electrical hubs, suggest that ocean energy has the potential to generate up to one-sixth of the UK's electricity consumption.
In addition to business and government partnerships, UK and Canadian research centers have also recognized the two countries' shared interest in developing ocean energy. The European Marine Energy Centre, based in Scotland, and the Fundy Ocean Research Center for Energy, based in Nova Scotia, collaborate on essential research for the development of ocean energy including environmental assessments and submarine cable deployment.
"OREG is a prime venue for the UK to showcase its expertise in ocean energy, and for British companies and research institutions to continue to build relationships and expand collaboration in Canada and throughout North America," added Rosenfeld.
About UK Trade & Investment
UK Trade & Investment (UKTI) is the British department that helps UK-based companies succeed in the global economy. We also help overseas companies bring their high quality investment to the UK's economy – acknowledged as Europe's best place from which to succeed in global business. UKTI offers expertise and contacts through its extensive network of specialists in the UK, and in British embassies and other diplomatic offices around the world. We provide companies with the tools they require to be competitive on the world stage. For more information on UKTI, visit www.ukti.gov.uk or telephone +44 (0)20 7215 8000. For latest press releases, visit the online newsroom at www.ukti.gov.uk/media.
You can also keep in touch with developments at UKTI through www.blog.ukti.gov.uk, www.twitter.com/ukti and www.flickr.com/photos/tags/ukti.
Featured Product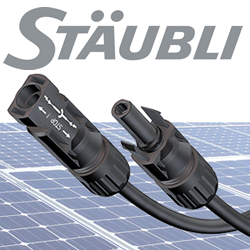 ​Stäubli Electrical Connectors are used on more than 300 GW, over 50% of the PV capacity worldwide. The MC4 family of UL and TUV listed products include connectors, in-line fuses, branch connectors, cable assembly and more.