The Small Business Administration (SBA) is a federal agency that provides training, counseling and access to capital and government contracts for small businesses.
Walnut Creek, CA, September 13, 2012 - Quick Mount PV was honored to host Karen Mills, 23rd Administrator of the Small Business Administration and member of President Obama's Cabinet, on Monday, September 10, 2012, at its facility in Walnut Creek, California, which was purchased in 2011 with the help of the SBA 504 loan program.

Additional visitors included Elizabeth Echols, Regional Administrator of the SBA; Mark Quinn, SBA's San Francisco District Director; Barbara Morrison, President and CEO of TMC Financing, an SBA 504 lender; and Walnut Creek Mayor Bob Simmons.
The Small Business Administration (SBA) is a federal agency that provides training, counseling and access to capital and government contracts for small businesses. Since 2008, the SBA has been a key player in President Obama's efforts to revive a lackluster economy through supporting small businesses. Karen Mills was nominated SBA administrator by President Obama in 2008 and became a member of the President's Cabinet in January of this year.
Quick Mount PV is an industry pioneer and the leading manufacturer of waterproof solar roof mounting products. With assistance from TMC Financing, the rapidly growing green business secured an SBA 504 loan to purchase its 133,600 square-foot facility in Shadelands Business Park, where it designs, engineers, and manufactures all its products.
After the tour, employees and guests gathered on the production floor to hear Mills and Claudia Wentworth, Quick Mount PV CEO, say a few words. "Quick Mount PV would not be here today without the support of the SBA," declared Wentworth. "We thank them for the faith they placed in us which enabled us to secure the capital to grow immediately and to plan for future growth in a cost-effective manner."
"Half of the people who work in this country own or work for a small business," said Administrator Mills. "Quick Mount PV is an example of what we hope the small businesses in this country can grow and become."
"Quick Mount PV takes great pride in manufacturing in the U.S., in California, and in the Bay Area," affirmed Wentworth. The company currently employs 65 people and expects to grow another 20 percent in the coming year.
The 30-minute tour of the facility included visiting the employee-run, organic company garden, growing everything from tomatoes to sunflowers. Mills was delighted with the garden and took home a basketful of tomatoes. The tour concluded on the production line, where Mills gave her informal speech after she personally assembled one of the company's signature products, the Classic Composition Mount.
"If anybody thinks manufacturing is dead in this country, I'm going to bring them here," concluded Mills.
About Quick Mount PV:
Quick Mount PV (www.quickmountpv.com) manufactures building-code-compliant, waterproof mounts used to secure solar electric (PV) and solar thermal (hot water) systems to rooftops. Founded in 2006, Quick Mount PV has grown rapidly to become the industry's leading seller of flashed rooftop mounts for solar installations. With an emphasis on buying parts and components from other U.S. manufacturers, the company complies with FTC regulations to proclaim its products are "Made in the USA" and fulfills the requirements of the Buy American provision contained within the American Reinvestment and Recovery Act (ARRA).
Featured Product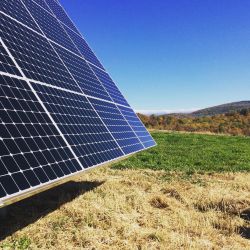 Designed and manufactured in the U.S., the AllEarth Solar Tracker is a complete grid-tied, dual-axis solar electric system that produces up to 45% more electricity than fixed systems. The tracker uses GPS and wireless technology to follow the sun throughout the day for optimal energy production. It has an industry-leading 10 year warranty and 120 mph wind rating, superior snow shedding, and automatic high wind protection. Its simple, durable design and complete system pallet simplifies costly procurement and installation time. Contact us about becoming a dealer partner or purchasing an AllEarth Solar Tracker.