Firestone Building Products today announced the launch of an exciting new website as a deep informational resource for its many customers and audiences.
Firestone Building Products Launches Resource-Rich Website;

Deep Product Information and Innovative Customer Support Tools Are Highlights
Indianapolis, Ind. (September 18, 2012)—Firestone Building Products Company, LLC, a leading manufacturer and supplier of a comprehensive "Roots to Rooftops" system of building envelope solutions, today announced the launch of a new website as a deep informational resource for its customers. Firestone Building Products works with many of the nation's preeminent architects and contractors, building owners, building maintenance companies and industry consultants.
The site (http://www.firestonebpco.com) is a "one-stop-shop" for professionals looking for robust product knowledge, specifications and case studies. In fact, the new site combines content from four separate websites devoted to the company's vast portfolio of roofing, metal, green and specialty products. The integrated site highlights the overarching theme of Firestone Building Products' commitment to performance—building, product and team—in service to customers' needs.
Visitors to firestonebpco.com can navigate through content on Education and Training, Project Profiles and Building Envelope solutions. The site has close to 100 case studies and over 1,000 pages of detailed content on Firestone Building Products:
• Roofing systems, insulation, energy solutions and accessories
• Metal wall panel systems, column covers, light shelves and sun screens
• Water management solutions systems, such as pond liners and membranes for containment and passive water management
• Education and training resources
• Warranty, installation and customer support services
The site is also the gateway to Firestone Building Products' proprietary, innovative tools such as their new iPad app, mobile app and a RoofGenuity™ interactive modeling program.
• The iPad app provides multiple views that allow customers to explore Firestone Building Products' solutions from different angles and in a variety of real-world settings. It also includes product specifics to show how the company's solutions work and apply to a wide range of projects.
• The mobile app is a convenient way for individuals charged with maintaining commercial roofing systems to connect with Firestone Building Products' Quality Building Services Team to ask questions, report a leaky roof, request an in-depth analysis, or use the GPS locator and image upload feature to share detailed information about an issue in the field.
• The RoofGenuity™ program is a web-based roof modeling/building information modeling (BIM) tool. It provides 3D visualization capabilities that allow architects, consultants, roofing contractors and building owners to assemble usable, warrantable solutions for all their roofing needs.
"The new website is a key component of our promise to be the most versatile supplier for building envelope solutions," said John Geary, Vice President of Marketing. "The site is built to serve the information and resource needs of our customers by showcasing market-right products and services, as well as our commitment to quality, design, craftsmanship and the environment."
About Firestone Building Products Company, LLC (www.firestonebpco.com): Firestone Building Products Company, LLC is a leading manufacturer and supplier of a comprehensive "Roots to Rooftops" portfolio of products for commercial building performance solutions. By taking the entire building envelope into consideration, Firestone tailors solutions to individual customer and project needs for roofing, wall and specialty product systems. Headquartered in Indianapolis, Ind., the company also offers outstanding technical services, an international network of roofing contractors, distributors and field sales representatives, and superior warranty protection. Products include: commercial roofing systems, roofing accessories, green roofing systems, photovoltaic and daylighting systems, vegetative roofing systems, metal wall panels, insulation, cavity wall construction, pond liners and geomembranes and stormwater management solutions.
Featured Product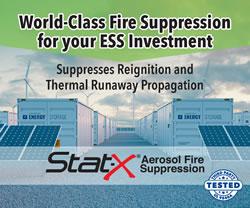 Stat-X® condensed aerosol fire suppression is a solution for energy storage systems (ESS) and battery energy storage systems (BESS) applications. Our Stat-X condensed aerosol fire extinguishing product was tested for efficacy in suppressing li-ion battery fires. It was found that the product successfully extinguished single and double cell battery fires. This testing was conducted in parallel with a large battery fire testing program on behalf of a large energy storage company.