TÜV SÜD's test lab for smart energy technology has now been accredited by the UCA International Users Group. In the laboratory, experts assess and certify electronic control systems and instruments for their conformity with the IEC 61850 international standard and provide IT security services.
"The renewable energy revolution and restructuring towards greater flexibility in energy production and distribution have resulted in a growing demand for more and better control systems and real-time information on grid voltage and frequency", says Maurizio Scavazzon, Product Manager IEC 61850 in the Embedded Systems department at TÜV SÜD AG. "To satisfy this demand, we need interoperable intelligent electronic devices (IEDs)." The transmission of data via interfaces and protocols must be based on uniform standards such as the IEC 61850. This international standard particularly applies to protection and control systems in power plants, transformer stations or electric sub-stations for medium and high-voltage grids. "Today, the IEC 61850 standard is virtually a 'must' whenever existing plants are modernized or new plants built", explains Scavazzon. "In many instances, owners demand that manufacturers obtain third-party certification to confirm the conformity of their products with this very standard."

Conformity assessment of components in accordance with IEC 61850
TÜV SÜD's testing laboratory for smart energy technology became accredited as a "Level A Independent Test Lab" by the UCA International Users Group. The experts in the testing lab carry out conformity testing based on the "Users Group Quality Assurance Testing Program Procedures" and issue certificates confirming that the devices and protocols used are in conformity with the IEC 61850 standard. The UCA International Users Group, Raleigh (USA), is a not-for-profit organization focusing on the development of supply-infrastructure standards.
The largest challenge faced in the context of components and IEDs lies in the high level of complexity which may result from the application of both safety and security functions and mechanisms to ensure communication in conformity with the standard. Given this, testing focuses on the correct functioning of the devices and the precise transmission of instantaneous values. "Using cutting-edge systems, we can even automate the test series for conformity testing", emphasizes Maurizio Scavazzon. "This saves time and delivers results that are significantly more comprehensive and reliable." At present, the testing laboratory assesses server devices but will also put client devices through their paces in the future. On top of the above, the laboratory offers EMC and environmental testing, including temperature tests, humidity tests and vibration testing.
IT security of components in accordance with industry standard
However, for components and IEDs, conformity with international standards is not the only core theme. IT security in automation and control systems is equally important. While "open systems" used in these sectors save costs, they are also vulnerable to computer worms such as Stuxnext and Flame. TÜV SÜD's testing laboratory analyses and assesses devices for possible weaknesses and uses a special test software to verify IT security in industrial applications.
"The testing and certification projects that are currently under way prove that our training and consulting services are in very high demand in this sector", says Dr Kai Strübbe, Head of Embedded Systems at TÜV SÜD AG. "The market is opening up. Many companies are starting to address these issues and require expert support as the subject is extremely complex." To assist these companies even better in this area in the future, TÜV SÜD is further expanding its local networks – particularly in Asia Pacific.
Featured Product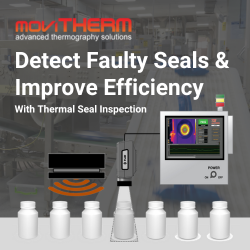 MoviTHERM's Thermal Seal Inspection (TSI) solution provides precise and reliable detection of defects in a variety of packaging types, including pouches, bags, blister packs, bottle caps, and more. By detecting defects in your packages, the TSI solution helps increase efficiency in your production line and ensures top-quality packaging is delivered to your customers every time. With state-of-the-art technology and an experienced team, MoviTHERM is dedicated to delivering accurate inspection solutions and peace of mind to its clients. Contact MoviTHERM today to learn more about their thermal seal inspection solution.