SkyWind GmbH today received the Windalliance's technology award. The four-strong jury of experts honoured the Rendsburg (Schleswig-Holstein) based company at a ceremony held during the leading international wind industry trade fair, HUSUM WindEnergy.
Husum / Hannover, 19 September 2012. SkyWind GmbH today received the Windalliance's technology award. The four-strong jury of experts honoured the Rendsburg (Schleswig-Holstein) based company at a ceremony held during the leading international wind industry trade fair, HUSUM WindEnergy. As well as a statue by north German sculptor Wilhelm Bühse, the company wins advertising and exhibition space at Hannover Messe 2013 and HUSUM WindEnergy 2014 to the value of 30,000 euros.

New components for wind turbines are usually tested on the supplier's test benches or at research establishments, which can only come close to real operating conditions. With the new development honoured here, SkyWind has created a modular test turbine in the multi-megawatt range with which manufacturers can test their products under real conditions. The wind turbine has a modular design which enables the main components – such as gears, generators and main bearings – to be separately controlled, exchanged and tested during operation. This means it is possible to install components and very varied drive concepts from different manufacturers into the system without the need for cost-intensive customisation work.
"Unique, ambitious and revolutionary"
The tower of the 3.4-megawatt system also serves as a crane. This means that the turbine can also be erected at not easily accessible locations with little effort, which also further reduces costs. For example, less clearing is required at high-altitude wooded sites, and also less transport effort and costs. The first test turbine is to be erected in summer 2013, prior to series production.
"SkyWind's overall concept is at the same time unique, ambitious and revolutionary", said juror Alois Schaffarczyk, professor of mathematics and engineering mechanics at Kiel University of Applied Science, in his laudation. The four-person jury was unanimous in its decision to award the prize to SkyWind. "The concept is a milestone in cost reduction. We hope that our decision will give the wind industry motivation to develop further creative cost reduction solutions."
In addition to SkyWind, the other nominated businesses, Münster-based Kenersys Europe and HOCHTIEF Solutions, represented by its centres of excellence for offshore wind and tunnel construction in Hamburg and Essen, presented their innovations to the public at the award ceremony in Husum,
About the Windalliance Technology Award
The Windalliance Technology Award is an international technology prize jointly awarded by Deutsche Messe AG and Messe Husum, first presented at the HUSUM WindEnergy 2012 trade fair. The organisers use the award to honour outstanding innovations in the product and service sectors of the international wind industry. In addition to Professor Alois Schaffarczyk from the Centre of Excellence for Wind Energy (CE Wind) in Kiel, the four-person jury also includes Dr Klaus Rave, president of the Global Wind Energy Council (GWEC), Dr Jos Beurskens, former head of research, renewable energy and wind energy at the Dutch research institute ECN, and Dr Kurt Rohrig from the Fraunhofer Institute for Wind Energy and und Energy System Technology in Kassel.
The prize was awarded on 19 September 2012 from 11:00 to 12:00 in the auditorium of the NordseeCongressCentrums (NCC) in Husum.
About HUSUM WindEnergy
HUSUM WindEnergy is the world's biggest wind energy trade fair. It takes place every two years in Husum. From 18 to 22 September 2012, around 1,200 exhibitors from 30 nations will be showcasing their products and services on an exhibition space covering 58,000 square metres. The organisers are expecting in excess of 36,000 from 90 countries at this year's fair, a new record number of visitors. Partners of the organising company include the international associations GWEC (Global Wind Energy Council), BWE (German Wind Energy Association), VDMA Fachverband Power Systems, EWEA (European Wind Energy Association) and the North Frisia Business Development Agency.
About Wind
In uneven years the main wind trade fair is organised by Deutsche Messe AG as part of the HANNOVER MESSE. This is a showcase where wind energy systems, services and components are showcased in an industrial context. In cooperation with the parallel energy trade fairs and the world's largest trade fair for drive technology, MDA, WIND in Hannover is the focus for exhibitors and visitors from the power sector, industry, politics and the public sector. The next WIND trade fair will be held in Hanover from 8 to 12 April 2013.
Messe Husum & Congress
Husumer Wirtschaftsgesellschaft mbh & Co. KG
Am Messeplatz 12-18
25813 Husum
www.messehusum.de
Press contact
Press Agency Krampitz
Lea Schmitz
Dillenburger Str. 85
51105 Köln
Tel.: +49 (0)221 912 49949
Fax: +49 (0)221 912 49948
Email: contact@pr-krampitz.de
www.pr-krampitz.de
Featured Product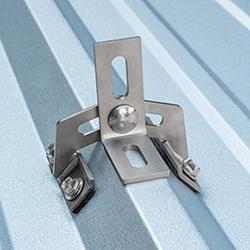 Explore new lines of income for your solar installation business with QuickBOLT's Stone Coated Steel roof mounts designed in partnership with metal roof manufacturers themselves. These SCS roof mounts work on all metal tile profiles and will help you bring in money you're missing out on. By not driving into the roofing material, QuickBOLT's Stone Coated Steel roof hooks maintain the integrity of the roof. Install with ease and confidence knowing your roof is protected against the harsh elements that these hooks are designed for.