Baker Electric Solar is encouraging neighbors to have solar energy conversations on National Good Neighbor Day Friday, Sept. 28. San Diego County homeowners who have solar systems and share their experience with a neighbor will both receive a 128-page book of energy-savings tips.
Baker Electric Solar, a full-service solar integrator specializing in green technology design / build residential solar and commercial solar installations, is celebrating National Good Neighbor Day Sept. 28 with the gifting of energy-saving books. Baker Electric Solar (BES) is encouraging San Diego County homeowners who have a solar energy system to share their experience with a neighbor. To acknowledge the green outreach, BES will give each neighbor a copy of "How to Reduce Your Carbon Footprint – 365 Simple Ways to Save Energy, Resources and Money" by Joanna Yarrow.

San Diego County has more than 10,000 solar residences. In observance of the original purpose of the day to show appreciation for one another, homeowners who make an effort to take a few minutes to reach out and talk to a neighbor and share how solar is working for them could make the day not only a neighbor-friendly one, but also create a "neighbor-to-neighbor" green conversation.
To promote the exchanges, Baker Electric Solar is giving both San Diego County neighbors a free copy of "How To Reduce Your Carbon Footprint – 365 Simple Ways to Save Energy, Resources and Money" by Joanna Yarrow. In keeping with the message of sustainability, BES is purchasing the books via the Barnes & Noble Marketplace, where buyers and sellers meet to exchange books.
National Good Neighbor Day was established in the early 70s, Becky Mattson from Lakeside, Mont. recognized the importance of good neighbors, and started the effort to make this a National day. With the help of congressman Mike Mansfield, she succeeded in having three Presidents -- Nixon, Ford and Carter issue proclamations. In 2003 the U.S. Senate passed a resolution making Sept. 28, National Good Neighbor Day. Previously, the day was celebrated on the fourth Sunday of September.
To qualify to receive a free copy of the energy-saving book, San Diego County neighbors need to email their name, address and phone number to info@BakerElectricSolar.com by Oct. 13, 2012. Please reference "National Good Neighbor Day 2012" in the body of the email.
"Being good neighbors is an important part of the social fiber of our community. Conversations 'over the fence' foster goodwill and create support and friendships," said BES President Ted Baker. "If giving a neighbor the good news about electric bill savings with solar can help them too, it's a win-win."
For more information about Baker Electric Solar and San Diego solar power, call (877) 543-8765 or visit http://www.bakerelectricsolar.com.
About Baker Electric Solar (BES)
Escondido-based NB Baker Electric, Inc., dba Baker Electric Solar, designs, builds and installs photovoltaic solar power systems for new and existing homes and commercial facilities across Southern California. Baker Electric Solar offers a zero-down, fixed monthly payment lease option. BES is a 2012 Inc. 500|5000 company and one of San Diego's 2012 Fastest Growing Private Companies. In addition BES is San Diego's first SunPower Elite Dealer and 2011 SunPower Regional Residential Dealer of the Year. For more information, visit http://www.bakerelectricsolar.com.
# # #
Featured Product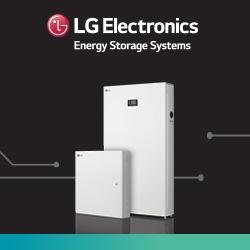 Meet LG Electronics Home 8 Energy Storage System (ESS), a whole home battery backup solution built with installers and their homeowner customers in mind. The ready-to-deploy Home 8 features just one SKU and a modular assembly for fast installation. It can be AC-coupled or solar-powered and is engineered with a grid-connected inverter, four battery modules, and a Smart Energy Box featuring a 7'' LCD touchscreen with commissioning wizard for easy setup. Each Home 8 unit can store up to 14.4 kWh of usable power, helping homeowners gain pure independence from the grid. Plus, installers can connect up to four units, bringing customers up to 57.6 kWh of total backup power-all easily managed and monitored through intuitive mobile apps.