IMS Research's recently released report The World Market for Concentrated PV (CPV) - 2012 revealed that the CPV market is predicted to reach almost 90 MW in 2012
Wellingborough, UK (26th September 2012) – The concentrated photovoltaic (CPV) market is forecast to double in 2012 and reach almost 90 MW or $325 million, according to a new report from IMS Research (recently acquired by IHS Inc. (NYSE: IHS)). Furthermore, IMS Research predicts installations of this emerging technology will grow rapidly over the next five years to reach almost 1.2 GW by 2016.

IMS Research's recently released report The World Market for Concentrated PV (CPV) - 2012 revealed that the CPV market is predicted to reach almost 90 MW in 2012 and at the same time revenues are predicted to increase by more than 60 percent to reach $325 million. The research firm predicts that despite strong competition from conventional PV systems, there is still an attractive market for CPV in its target regions. "CPV suppliers are being forced to continually decrease costs in order to compete with the rapidly falling cost of PV systems. The technology is still relatively new and faces bankability issues. Despite this, CPV suppliers have made significant progress in the USA market, with a forecast 13 percent share of the target market in 2012, rising to a predicted 27 percent by 2016" explained report co-author and IMS Research Analyst Jemma Davies.
Whilst CPV is forecast to remain a niche in the overall PV landscape, in the long-term, the report found that the outlook for CPV remains positive. Installations forecast to capture an 18 percent share of its target market (ground mount systems with a direct normal irradiance DNI above 6kWh/m2/day) by 2016. High concentration PV (HCPV) systems are forecast to dominate the market in 2012, however low concentration PV (LCPV) installations are forecast to accelerate over the next five years, capturing a 20 percent share of the CPV market by 2016. "Currently LCPV suppliers have not entered the market aggressively, however with recognised companies such as SunPower poised to install a significant amount from 2013, these products are set to gain market share as a result" added report co-author Sam Wilkinson.
According to the report, the most attractive markets for CPV will be the U.S. and Central America as well as Middle East and Africa (excl. S. Afr.), which will see CPV capturing up to a 27 percent share of the high DNI target markets by 2016. In particular, regions such as South West U.S., Chile, Saudi Arabia and Morocco are predicted to see high growth, with conditions in these regions suited to CPV.
The research profiled over 30 CPV suppliers, however in 2011 the market was dominated by the top five suppliers, which accounted for almost 90 percent of installations. Amonix was found to be the largest supplier to the market, however since the closure of its operations earlier this year and as the number of suppliers commercializing their products increases, the competitive landscape is expected to shift considerably. Suppliers such as Soitec and SolFocus are expected to gain market share in 2012 according to the report.
IMS Research's report The World Market for Concentrated PV (CPV) – 2012 was published in September and contains forecasts and analysis for this fast growing segment of the PV industry.
For more information please contact:
IMS Research: Ash Sharma, Research Director, T: +44 1933 402255, ash.sharma@ihs.com
Twitter: IMSResearch_PV
Contact details:
IHS Media Relations
press@ihs.com Tel: +1 303 305 8021
Alternative Contacts:
Europe
Stacey May
Stacey.may@imsresearch.com, Tel: +44 1933 402 255
US
Stacy Hackenberg
Stacy.hackenberg@ihs.com Tel: +1 512 302 1977
Asia Pacific
Yvonne Zhang
yvonne.zhang@ihs.com Tel: +86 21 6720 1823
Follow us on twitter: IMSResearch_PV
About IHS Inc. (www.ihs.com)
IHS (NYSE: IHS) is the leading source of information, insight and analytics in critical areas that shape today's business landscape. Businesses and governments in more than 165 countries around the globe rely on the comprehensive content, expert independent analysis and flexible delivery methods of IHS to make high-impact decisions and develop strategies with speed and confidence. IHS has been in business since 1959 and became a publicly traded company on the New York Stock Exchange in 2005. Headquartered in Englewood, Colorado, USA, IHS employs more than 6,000 people in more than 30 countries around the world.
About IMS Research (www.imsresearch.com)
IMS Research, recently acquired by IHS (NYSE: IHS), is a leading supplier of market research and consultancy to over 2500 clients worldwide, including most of the world's largest technology companies. Established in the UK in 1989, IMS Research now has dedicated analyst teams focused on the factory automation, automotive, communications, computer, consumer, display, financial & ID, LED & lighting, medical, power & energy, solar PV, smart grid and security markets. Currently publishing over 350 different syndicated report titles each year, these in-depth publications are used by major electronics and industrial companies to assess market trends, solve marketing problems, and improve the efficiency of their businesses.
Featured Product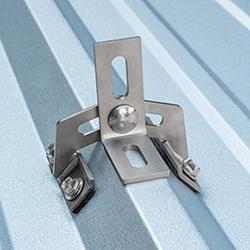 Explore new lines of income for your solar installation business with QuickBOLT's Stone Coated Steel roof mounts designed in partnership with metal roof manufacturers themselves. These SCS roof mounts work on all metal tile profiles and will help you bring in money you're missing out on. By not driving into the roofing material, QuickBOLT's Stone Coated Steel roof hooks maintain the integrity of the roof. Install with ease and confidence knowing your roof is protected against the harsh elements that these hooks are designed for.