Visiting dignitaries gather to view the company's breakthrough 3D light trapping solar cell with exclusive coverage by Bloomberg TV
SANTA BARBARA, Calif.--Solar3D, Inc. (OTCBB: SLTD) the developer of a breakthrough 3-dimensional solar cell technology to maximize the conversion of sunlight into electricity, demonstrated its working prototype at an event hosted by the Institute for Energy Efficiency held at the University of California at Santa Barbara. A number of visiting dignitaries were in attendance and the event received exclusive coverage by Bloomberg TV.

"It was a great opportunity to gather and celebrate the results of our team's hard work over the last two years," said Jim Nelson, CEO of Solar3D. "It is gratifying to know that people of substance understand the potential impact of our invention and took the time to observe what we believe is a quantum leap forward for solar energy."
Those attending the event included Congresswoman Lois Capps of California's 23rd Congressional District, David Auston, Executive Director of UCSB's Institute for Energy Efficiency, and Rod Alferness, Dean of the College of Engineering at UCSB.
"Early on in his administration, President Obama stated that this is the century of energy," said Ms. Capps. "We are not yet independent in our energy but this new technology is a piece that will help us get there. It will help our national security situation and it will help our economy grow. The nexus of Solar3D and the University is happening and it is a win-win for everyone."
"UCSB and the Institute for Energy Efficiency are pleased to partner with Solar3D in this important announcement today," said David Auston. "The new technology being developed by this Goleta start-up company exemplifies the key role that innovative technology plays in strengthening the U.S.'s competitive position in the global marketplace for photovoltaic solar cells. Solar3D's novel approach has the potential to dramatically increase the efficiency of solar cells and thereby reduce the cost per watt."
Solar3D announced earlier this month that it had completed its working, proof-of-concept prototype and that the preliminary performance characteristics exceeded management expectations.
"We were thrilled to see our Solar3D Cell outperform the basic solar cell by producing 250% of the power of the basic cell," continued Nelson. "Its two key powerful performance characteristics make that possible. First, it is substantially more efficient in producing power. Second, a wide-angle light collection feature on the cell surface allows our 3D Solar Cell to collect light at more times throughout the day, month and year, an attribute unique in the solar industry. We believe that conventional solar cell technology, based on a 2D design, has reached its limits and a major breakthrough is required to lower the cost of solar energy. We believe that breakthrough is in 3D light trapping and conversion, and that our device will allow us to achieve grid parity."
Mr. Nelson concluded, "Our total focus now turns toward bringing this breakthrough technology to market. Our next major step will be to produce a manufacturing prototype, which is required to undertake a pilot production run in early 2013. The pilot run will prove the 3D Solar Cell's performance characteristics in a production environment and lead us to a manufacturing partner and entry into the marketplace by the end of 2013."
About Solar3D, Inc.
Solar3D, Inc. is developing a breakthrough 3-dimensional solar cell technology to maximize the conversion of sunlight into electricity. Up to 30% of incident sunlight is currently reflected off the surface of conventional solar cells, and more is lost inside the solar cell materials. Inspired by light management techniques used in fiber optic devices, our innovative solar cell technology utilizes a 3-dimensional design to trap sunlight inside micro-photovoltaic structures where photons bounce around until they are converted into electrons. An innovative wide-angle light collection feature on the cell surface allows for the collection of sunlight over a range of angles during the day. This next generation solar cell will be dramatically more efficient, resulting in a lower cost per watt that will make solar power affordable for the world. To learn more about Solar3D, please visit our website at http://www.Solar3D.com.
Featured Product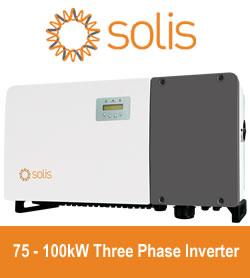 Solis75kW - 100kW series high-power string inverters are widely used in industrial and commercial rooftops. Solis's new three-phase string inverter is the first choice for industrial and commercial photovoltaics. 75-100kW three phase series string inverter have Maximum 28 strings input, support "Y" type connection in DC side. Maximum string input current 13A, support bifacial modules access.Supports anti-PID function to improve system efficiency.