Solar module clip provides a no-tool attachment of the module to the strut or rail
(Brunswick, OH, September 24, 2012) ARaymond Tinnerman Industrial Inc. (ART) announces the release of the PowAR Snap™ 90B. This product is a one-piece attachment clip for framed solar modules that simply snaps into a standard channeled strut or aluminum rail delivering a fast, easy installation and lowering overall installation costs.

The PowARSnap™ 90B completes the ARaymond® range of solar products designed to satisfy demands from the industry for reduced BOS cost per watt, with a focus on installation labor and materials. With its one-piece design, consisting of a flanged slot that slides onto the underside of the module frame, the PowAR Snap™ 90B allows the modules to be installed flush against each other, requiring fewer rails. On-site installation time is reduced due to the products ability to be pre-assembled, leaving the only remaining install requirement a simple, low-effort snapping of the module into the strut without any tools or torqueing operation. The PowAR Snap 90B meets UL2703, Section 21 for Mechanical Load Testing and is compatible with a wide range of framed modules.
"ARaymond Tinnerman Industrial is excited to present our newest universal assembly solution that will provide our customers with labor savings resulting in reduced aggregate project costs," says Dan Kerr, President/CEO - ARaymond Tinnerman Industrial. "Notable features of this product include tool-less assembly and low installation properties."
The PowAR Snap™ 90B was first revealed at Solar Power International in Orlando, FL, September 9-11, 2012. Production tooling is complete and orders are now being accepted. Additional details on the PowAR Snap™ 90B, as well as other ARaymond Tinnerman products, can be found at www.araymondtinnerman.com, or by contacting the company directly at 800.221.2344.
About ARaymond Tinnerman Industrial Inc.
ARaymond Tinnerman is one of the global leaders in fastening and connection solutions. The company has always valued being inventive, and spent many years developing and manufacturing innovative fastening solutions for the automotive industry. Since then, ARaymond Tinnerman has transferred its expertise and skills into new markets such as, energies, building and industrial equipment. One of the integral parts of the company's culture and identity is its respect for the environment, so ARaymond Tinnerman has become committed in its efforts to grow in industries that promote clean energy, such as solar.
ARaymond Tinnerman Industrial Inc. belongs to ARaymond Network, a network of independent companies located in America, Europe, Asia
www.araymond.com
Featured Product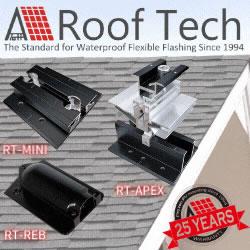 Now Roof Tech brings you the most innovative, watertight mounting systems ever developed for solar photovoltaic systems. Designed and manufactured exclusively for us by Japan's longtime leader in roofing technologies, Roof Tech products are 100% code-compliant and offer fast, simple installation and huge savings on shipping costs due to their compact, rail-less design. Learn more about our full line of versatile PV mounting solutions now available for residential installations. The next generation in rooftop solar mounting solutions."