Clean Energy Should be Bipartisan Economic Solution, Says National Chamber Network, Representing 240 Local Chambers Nationwide
DENVER, CO (October 2, 2012) – As the nation prepares for the first presidential debate on domestic policy, Chambers for Innovation and Clean Energy (CICE), the only national, non-partisan clean energy network and information hub for local chambers of commerce, called on President Obama and Governor Romney to prioritize clean energy and energy efficiency as key tools to economic recovery. In a letter sent today to both campaigns, Chambers for Innovation and Clean Energy, whose membership includes 240 chambers in 47 states, emphasized that supporting clean energy is critical to creating jobs, attracting investment, and fostering technological innovation in local economies across the nation.

"Our local businesses are at the forefront of energy solutions, building smarter electric grids, cleaner cars, more efficient buildings, and cutting-edge renewable energy technologies," said Aaron Nelson, President and CEO of the Chapel Hill-Carrboro (NC) Chamber of Commerce. "These are homegrown energy solutions that are strengthening our economy right now, and can help us grow into the future. For our local businesses and innovators, clean energy isn't a partisan issue—it's a growing market opportunity."
As CICE's letter explains, American clean energy has helped to diversify local economies and create business growth. Nearly 500 facilities across 44 states now manufacture for the wind energy industry, supporting well-paying jobs in states like Iowa, Ohio, Wisconsin, and Michigan. More than 100,000 Americans go to work each day at solar system manufacturers, installers, and other service businesses within the solar industry. And with energy efficiency improvements, businesses small and large are achieving millions of dollars in savings. In Cleveland alone, with the local chamber's help, businesses saved a collective $1.5 million in 2011 thanks to energy efficiency retrofits.
"Our member companies know that clean and efficient energy helps member companies improve their bottom lines," said John Threadgill, President and CEO of the Bartlett (TN) Chamber of Commerce. "In Tennessee, our energy efficiency network has already helped save nearly $2.5 million for our local businesses in less than two years. These are cost-effective, viable solutions that both candidates should support."
The letter further stresses that clean energy remains a tight global race, one that the American business community is eager to win. In 2011, global clean energy investments rose to a record $280 billion, according to Bloomberg New Energy Finance, with the U.S. and China continuing to compete for the top spot in investment. In recent weeks, local chambers of commerce, major corporations including Hewlett-Packard, Microsoft, Johnson & Johnson, Sprint, Nike, and Starbucks, and other business organizations have spoken out to urge the federal government to ensure U.S. leadership in the global clean energy race.
"American businesses are known worldwide for developing groundbreaking technologies, from the automobile and space shuttle to the personal computer and cell phone," said Diane Doucette, Executive Director of Chambers for Innovation and Clean Energy. "The winner of this presidential race will have an important choice to make. We can either make clean energy a top priority and grow our local economies around clean energy manufacturing, construction, and high-tech development, or cede our global technological leadership to other nations."
With member chambers located in many states benefiting from clean energy-related economic development—including Ohio, North Carolina, Iowa, and Colorado—Chambers for Innovation and Clean Energy concluded its letter to Pres. Obama and Gov. Romney with:
"We urge you to take a stand and prioritize clean energy as an economic development solution. In partnership with American businesses, local chambers, and state and local governments, your Administration has the opportunity to steer us toward a more secure and prosperous energy future."
The letter is available here: http://www.chambersforinnovation.com/campaign-letter/
About Chambers for Innovation and Clean Energy: Chambers for Innovation and Clean Energy (CICE) is a national Clean Energy network and Information Hub for local chambers of commerce. Created and led by local chambers, CICE helps fellow chambers and their member companies successfully navigate and prosper in the clean energy space. CICE provides access to clean energy information, best practices, energy experts, incentives, and business opportunities. CICE's Advisory Council includes Chamber CEOs from every region of the country. Visit CICE at www.chambersforinnovation.com.
Media Contact: Danielle English
415.453.0430
###
Featured Product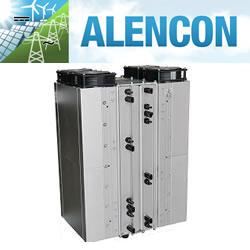 Alencon Systems is the premier manufacturer of high power, high voltage DC:DC optimizers for alternative energy applications including solar, battery energy storage, Microgrids, Fuel Cells and Electric Vehicle charging. Alencon's DC:DC converter offerings include the SPOT, BOSS and CUBE series DC:DC converters. The SPOT is a modular, uni-directional DC:DC solution ideal for solar applications. The BOSS is a modular, bi-directional unit for use with battery energy storage. The CUBE is a monolithic DC:DC converter which is available in both uni-directional and bi-directional modalities. Pictured above, is the Alencon SPOT.