Alta Wind VII and Alta Wind IX projects total 300 megawatts
DES MOINES, Iowa--Today, MidAmerican Wind, a subsidiary of MidAmerican Renewables whose parent company is MidAmerican Energy Holdings Company, announced its agreement to acquire the 168-megawatt Alta Wind VII and the 132-megawatt Alta Wind IX projects from California Highwind Power, a subsidiary of Terra-Gen Power, LLC. The projects are in Tehachapi, Calif., and will feature a total of 100 Vestas 3-megawatt V90 wind turbines.

"The Alta Wind VII and Alta Wind IX projects demonstrate MidAmerican Wind's commitment to developing wind generation in the U.S.," said Tom Budler, president of MidAmerican Wind. "The two projects, which are part of the largest wind farm in the country, make an excellent addition to our growing portfolio of renewable energy assets as we continue to evaluate and acquire wind projects."
When complete, Southern California Edison will purchase electricity from each of the projects pursuant to the terms of power purchase agreements that extend to 2035. The projects will interconnect to and utilize Southern California Edison's Tehachapi Renewable Transmission Project.
The Alta Wind VII and Alta Wind IX projects are part of the Alta Wind Energy Center. The completion of the two projects will bring the total capacity of the Alta Wind Energy Center to 1,320 megawatts. Approximately 1,020 megawatts are currently in operation.
"With the addition of this 300-megawatt wind project, MidAmerican Renewables' portfolio includes more than 1,250 megawatts of owned renewable energy assets, enabling us to help meet the need for energy generated from renewable resources," said Bill Fehrman, president of MidAmerican Renewables. "We are excited about this project and look forward to finding more opportunities to own and operate renewable energy resources that support our core principle of environmental respect."
MidAmerican Energy Holdings Company is the No. 1 rate-regulated utility owner of wind-powered generation capacity in the U.S. Through MidAmerican Wind, MidAmerican is growing its unregulated wind portfolio. MidAmerican began building wind energy projects in 2004. The company has built or acquired more than 3,300 megawatts of wind generation.
MidAmerican Renewables
MidAmerican Renewables is a subsidiary of MidAmerican Energy Holdings Company, a global energy provider. MidAmerican Renewables oversees wind, geothermal, solar and hydro projects in the unregulated renewables market. MidAmerican Renewables is headquartered in Des Moines, Iowa, and has offices in Phoenix, Ariz., and Calipatria, Calif. Information about MidAmerican Renewables is available on the company's website, Twitter, Facebook and YouTube pages, which can be accessed via www.midamericanrenewablesllc.com.
MidAmerican Energy Holdings Company
MidAmerican Energy Holdings Company, based in Des Moines, Iowa, is a global provider of energy services. Through its energy-related businesses, MidAmerican provides electric and natural gas service to more than 6.9 million customers worldwide. These businesses are Pacific Power, Rocky Mountain Power and PacifiCorp Energy, comprising PacifiCorp; MidAmerican Energy Company; Northern Powergrid Holdings Company; Northern Natural Gas Company; Kern River Gas Transmission Company; MidAmerican Renewables; and CalEnergy Philippines. Information about MidAmerican is available at www.midamerican.com.
Featured Product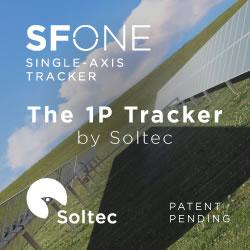 SFOne is the 1P single-axis tracker by Soltec. This tracker combines the mechanical simplicity with the extraordinary expertise of Soltec for more than 18 years. Specially designed for larger 72 an 78 cell modules, this tracker is self-powered thanks to its dedicated module, which results into a lower cost-operational power supply. The SFOne has a 5% less piles than standard competitor, what reduces a 75% the labor time.