Nexeon, the leading developer of next generation lithium ion battery technology, has been named in the prestigious 2012 Global Cleantech 100, produced by Cleantech Group.
Nexeon, the leading developer of next generation lithium ion battery technology, has been named in the prestigious 2012 Global Cleantech 100, produced by Cleantech Group, a leading global research and advisory firm focused on innovation in energy and the environment.

This is the second time Nexeon has been recognized in these prestigious awards which this year attracted over 8000 nominations from 85 countries. The Global Cleantech 100 list is unique in the sector by highlighting the promise of private clean technology companies from all around the world, focusing on those companies which are likely to make the most significant market impact over the next 5-10 years.
The list is derived from Cleantech Group's own data and research combined with the viewpoints of a global panel of 75 cleantech experts, representative of the global cleantech community.
"We are naturally delighted that the expert panel has once again recognised the impact that silicon anode technology is projected to have on improving the performance of lithium ion batteries, and the rapid progress we are making against our commercial goals", said Dr Scott Brown, CEO of Nexeon.
"The 2012 Global Cleantech 100 is markedly different in its composition to that of 2009, our first edition," said Richard Youngman, Cleantech Group Managing Director. "As such, it is a strong statement of how the collective market opinion has shifted as to what type of companies are the most likely to have significant market impact in a 5-10 year timeframe."
8,285 companies were nominated this year; these companies were weighted and scored to create a short list of 236 companies presented to the expert panel for final input. The end result was 100 companies from 13 countries.
The 75-member expert panel is drawn principally from leading financial investors in Asia, Europe and North America, and from representatives of multi-national corporations. The composition of the expert panel includes pioneers, leaders, veterans, and new entrants in cleantech resulting in a list of companies that command a broad base of respect and support from many important players within the global cleantech innovation ecosystem, not just insiders.
"The Global Cleantech 100 is a natural extension of our companywide mission to help corporations, investors and financiers, professional service firms and governmental agencies connect with global cleantech innovation" said Sheeraz Haji, Cleantech Group CEO. "This report celebrates the best in innovation and is the industry standard on gauging where cleantech innovation is headed next."
The complete list of 100 companies was revealed yesterday at the Global Cleantech 100 Summit & Gala in Washington, D.C.
For Cleantech Group's profile on Nexeon, see http://research.cleantech.com/company/nexeon
The full report with commentary and insight on the 2012 Global Cleantech 100 authored by Cleantech Group and sponsored by Autodesk, Deloitte, Wermuth Asset Management, and Wilson Sonsini Goodrich & Rosati is available for download at www.cleantech.com/global-cleantech-100/.
Featured Product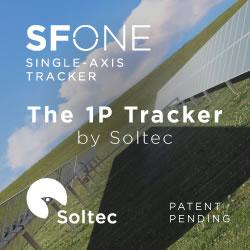 Soltec manufactures and supplies solar trackers designed and proven for extreme climate conditions, which is an ideal solution for any region's environment. Soltec's trackers are self-powered, requiring no additional PV module or grid-powered connection. Bifacial modules collect energy on both the front and rear sides, capturing reflected irradiance from the ground surface under and around the tracker and from other modules. Depending on site conditions, bifacial yield-gain can reach +30 percent.